Arizona Gold Gangster
by Parker Anderson
Looks like Prescott historian Parker Anderson has done it again. Not one to let any sleeping mythology lie, Anderson jumps smack into the middle of a nineteenth century tale about a vile and greedy mass murderer and his reign of terror to sort out what is real and what might have been added to make it a better story. Using court documents, yellowed newspaper pages, and other original sources Anderson attempts to shine a light of facts onto the long entrenched legend of Charles P. Stanton and his taking over of Antelope Station, an important stage stop between Prescott and Wickenburg, just down the hill from Yarnell.
Was it mere chance that anyone who crossed Stanton usually ended up dead? Was Stanton's power and substantial wealth a result of luck and hard work, or was he actually a crime boss who used murder to create a reign of terror, who stole, swindled and bribed his way to fortune and power? What led to the end of this mysterious Irish Lord who immigrated to the United States a mere few years before, after studying to be a priest back in Ireland.
Well, you'll just have to read Parker Anderson's book or listen to his talk on Zoom this Saturday, June 20th, at 2pm to find out. Also attending will be two former owners of the town of Stanton, once called Antelope Station, Bil Makela and Ken Jordan, who are eager to hear what Parker Anderson has to say about the real Charles P. Stanton. An interesting side note: Years ago, these two owners attended a play put on by Sharlot Hall's Blue Rose Theater, entitled Stanton, The Rogue Who Would Be King. Young Mr. Anderson played the part of Stanton's "old-timer."
The Overstory
by Richard Powers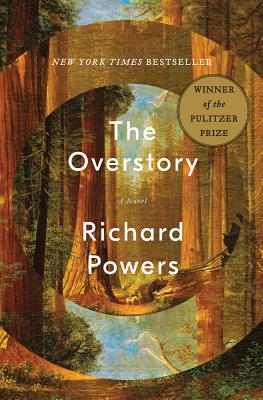 It is rare that I can say that a book is one of the absolute best I've read in years, but The Overstory, by MacArthur Genius and National Book Award winner, Richard Powers, is such a book. It is a big book, 502 superbly written pages that will pull you into the world of story and rob you all sense of time and place other than the reality you have fallen into. At least that's what happened to me, so much so that I finally had to ban myself from any more pages until I competed several important projects. Otherwise I would tell my self 'well, I'll just read one more section,' 'Or I'll just read for half an hour,' then find myself coming up for air an hour and a half or more later, ready to dive back into the story.
All I can tell you without giving a spoiler alert is that the novel's story circles around the wonders of trees that most of us take for granted, and the characters who do their bidding–but don't think that means the story is at all boring or preachy. The first section, Roots, introduces us to nine main characters who couldn't be more different from each other in backgrounds, interests and personalities. Yet these divergent beings will all be pulled together by the one thread of significance that passes though all of their lives—some kind of connection in their background to a tree that finally blossoms like a germinating seed when given the right soil of place and time, setting into motion gallant though not always legal actions.
Characters find themselves transformed, doing things they would never have believed they were capable of. And readers, too, can find themselves transformed as they taste the fish and huckleberries that live high in the canopy of a redwood old growth forest, where salamanders cavort; transformed they watch such wonders as hundreds of Myrtle trees scattered all suddenly flowering throughout the forest on a single day, Bertholletia that grow piñata cannonballs filled with nuts, and other trees that make rain, that tell time, that predict the weather, and that warn other trees of the approach of dangerous parasites. And these things are not the fantasy of science fiction but well documented in the annals of recent scientific study, here presented in a magnificent story that you'll be grateful to have discovered.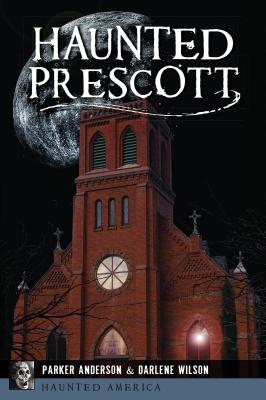 Haunted Prescott
by Parker Anderson and Darlene Wilson
Local and logical historian Parker Anderson teamed up with highly credentialed paranormal expert Darlene Wilson to produce a uniquely balanced perspective on the many legendary paranormal phenomena that haunt Prescott. "Haunted Prescott" fully covers the documented historical contexts surrounding the many sightings, at times debunking any unsubstantiated stories, yet leaving intact plenty of the unexplained phenomena, some credibly documented, including with professional photographs of mysterious orbs.
The authors begin with several Whiskey Row sightings and legends, including the mysterious and controversial tunnels, tracing the stories back in time through the three courthouse buildings (along with documented hangings) and rebuildings, along with various row hotels, saloons and changing businesses involved of each era, most with buildings still extant today. Of course the authors also include off-row hotels, such as the Vendome with its famous Abby and other ghost sightings, the Hassayampa's Faith, the St. Michael and Head Hotels' mysteries among them, moving on to the Elks and several other of Prescott's historical buildings. They eventually follow the ghostly trail to its inevitable conclusion at Prescott's historic cemeteries.
I confess to being somewhat a skeptic of such ghostly goings on and picked up the book partly because of the unique pairing of two such divergent authorial sources, each credible in his and her own individual field — and partly because, after all, it was Halloween at the time. Yet I found myself fascinated by the stories. I greatly enjoyed the detailed historical contexts and the relationships that had to do with the sightings. I also enjoyed the stories of so many people who were fairly terrified by each of the many unexplained (and often reoccurring) phenomenon. And I couldn't help by wonder and imagine what conversations might have taken place between two authors with such highly divergent perspectives.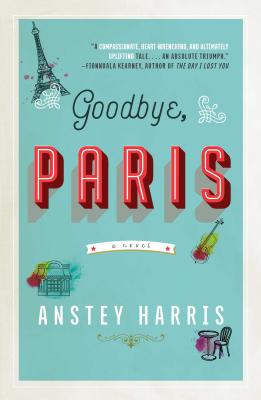 Goodbye Paris
by Anstey Harris
When I first picked up Indie First Nominated Goodbye Paris, by Antsy Harris, I was hoping that the character's goodbye to that amazing city didn't come too early in the book. However it didn't take more than a few pages of language that at time borders on the poetic to draw me in fully and render that concern a non-issue. The main character, Grace Atherton, is living the perfect life: Although she has given up on her dream of being a cellist, she very much loves the work she now does, making cellos and violins in her highly regarded shop, spending some of her time in Paris with a seemingly perfect boyfriend (who cares if he's married and has an "arrangement"; after all, the novel is set in Europe). What could go wrong?
Well, the way in which things start to unravel is as unique and compelling as the eccentric characters themselves,:Nadia, Grace's talented and angst ridden teenaged shop assistant comes through as vividly as if she were in the same room, as does Mr. Williams, an elegant older "gentleman" who visits the shop. And when Grace's fairytale world starts coming apart these two indelible characters have much they can teach her.
Things don't just come apart gracefully either; some things literally get torn apart–and with Grace's help, until she finds herself feeling sick as she surveys "the fresh open wounds in the wood" of the violins, "the split varnish, and the leaking glue." "I pray these things are hallucinations," she tells us, then "I put my hands to my face and sob....My life is over."
With these final details, and every other aspect of her perfect life suddenly lying around her in pieces, the novel is over, right! Of course not, and the real story starts with the very unmetaphorical blood, sweat and tears that Grace needs to make her way toward rebuilding some sort of replacement for her old life. With every moving step of this steep uphill journey Grace becomes closer to a happiness more real and satisfying than she could have imagined.
---
These book reviews were previously published in the Daily Courier. Susan Lang is Event Coordinator for the Peregrine. Click here to learn more about Susan »