7 pm

| FRIDAY, APRIL 27
The Yavapai College Literary Southwest Series presents an Evening with Kay Ryan, Pulitzer Prize-winning and former U.S. Poet Laureate, who will read excerpts from her works. A discussion will follow. The author's books will be available for purchase at the event and at the Peregrine Book Company.
EVENT LOCATION: Yavapai College Library, Susan N. Webb Community Room, Building 19, Room 147. All readings are free and open to the public.
About the Author
In 2008, Kay Ryan was appointed the Library of Congress's sixteenth United States Poet Laureate Consultant in Poetry. She served in that capacity until 2010. The following year she won the Pulitzer Prize for Poetry for her collection The Best of It: New and Selected Poems. Her most recent book of poems, Erratic Facts, was published by Grove Press in October 2015. Other poetry collections include The Niagara River, Say Uncle, Elephant Rocks, and Flamingo Watching. Ryan's awards include a MacArthur "Genius" Award, The National Humanities Medal awarded by President Barack Obama in 2012, the Ruth Lilly Poetry Prize, a Guggenheim Fellowship, and an Ingram Merrill Award. In 2017 she was elected a member of the American Academy of Arts & Letters; Ryan was elected a Chancellor of The Academy of American Poets in 2006. Born in California, she grew up in the small towns of the San Joaquin Valley and the Mojave Desert. She has lived in Marin County in Northern California since 1971.
About the Author's Books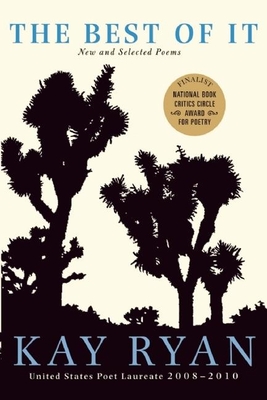 Kay Ryan's recently concluded two-year term as the Library of Congress's sixteenth poet laureate is just the latest in an amazing array of accolades for this wonderfully accessible, widely loved poet—her awards include the Ruth Lilly Poetry Prize from the Poetry Foundation, four Pushcart Prizes, and a Guggenheim fellowship. Ryan's The Best of It: New and Selected Poems has garnered lavish praise. The two hundred poems in The Best of It offer a stunning retrospective of her work, as well as a swath of never-before-published poems—all of which are sure to appeal equally to longtime fans and general readers.
Praise For The Best of It: New and Selected Poems
2011 Pulitzer Price Winner for Poetry:
Awarded to The Best of It: New and Selected Poems, by Kay Ryan (Grove Press), a body of work spanning 45 years, witty, rebellious and yet tender, a treasure trove of an iconoclastic and joyful mind. —Pulitzer.com
Everything [Ryan's] eye falls upon takes on a brisk, beautifully complete clarity. Her tidy lines disguise an enormous intelligence and tonal warmth: a ferocious capacity for finding the essence of things. The Best of It reveals that right before our eyes Ryan has become a classic American poet.—John Freeman, Los Angeles Times
Ryan's poems are as slim as runway models, so tiny you could almost tweet them...Her voice is quizzical and impertinent, funny in uncomfortable ways, scuffed by failure and loss. Her mastery, like Emily Dickinson's, has some awkwardness in it, some essential gawkiness that draws you close you can't help consuming [her] poems quickly, the way you are supposed to consume freshly made cocktails: while they are still smiling at you. But you immediately double backwhat was that?and their moral and intellectual bite blindsides you.—Dwight Garner, The New York Times
[Ryan] has the uncanny ability to construct a tiny word-mechanism that produces the experience of genuine wonder.—Steven Ratiner, The Washington Post
Kay Ryan [is] among the geniuses celebratedfor her clear style that puts her in the company of Robert Frost.—Nick Owchar, Los Angeles Times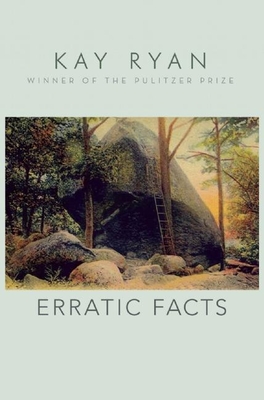 Erratic Facts, Kay Ryan's first collection since the Pulitzer Prize-winning The Best of It, offers sixty-plus new examples of her swift, lucid style. Ryan examines enormous subjects with compact poems in which sly rhymes and syncopation lend an off-foot musicality to unnerving wisdom. These poems demonstrate the same quick-fire brain-work that has animated her verse for the last thirty years, in ways more daring than ever.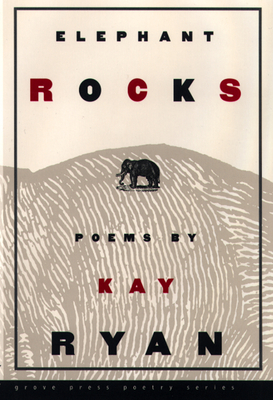 Elephant Rocks, Kay Ryan's third book of verse, shows a virtuoso practitioner at the top of her form. Engaging and secretive, provocative and profound, Ryan's poems have generated growing excitement with their appearances in The New Yorker and other leading periodicals. Sometimes gaudily ornamental, sometimes Shaker-plain, here is verse that is compact on the page and expansive in the mind.
Event date:
Friday, April 27, 2018 - 7:00pm
Event address:
Yavapai College Library
Susan N. Webb Community Room Building 19, Room 147