7 pm

| FRIDAY, NOVEMBER 9
The Yavapai College Literary Southwest Series presents an evening with award-winning author Anthony Marra, who will read excerpts from his works. A discussion will follow. The author's books will be available for purchase at the event and at the Peregrine Book Company.
EVENT LOCATION: Yavapai College Library, Susan N. Webb Community Room, Building 19, Room 147. All readings are free and open to the public.
About the Author
Anthony Marra is the author of two works of fiction. His first book, the novel A Constellation of Vital Phenomena, was a New York Times bestseller. It received the National Book Critics Circle's John Leonard Award in the US, the Grand Prix de Lectrices des Elles in France, and was the first English-language novel to win the Athens Prize for Literature in Greece. It was also longlisted for the National Book Award and appeared on more than twenty year-end best lists. His second book, The Tsar of Love and Techno, a collection of intricately connected stories, was a finalist for the National Book Critics Circle Award in Fiction. Born in Washington, DC, he has lived and studied in Eastern Europe. He received his BA from the University of Southern California and his MFA from the Iowa Writers Workshop. He was a Wallace Stegner Fellow at Stanford University, where he teaches. His work has been honored with a National Magazine Award, The Whiting Award, a Pushcart Prize, and fellowships from the Guggenheim Foundation and the National Endowment for the Arts. Learn more about Anthony Marra »
About the Author's Most Recent Book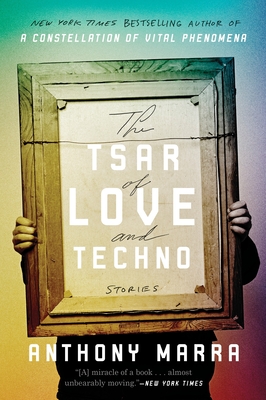 From the New York Times bestselling author of A Constellation of Vital Phenomena—dazzling, poignant, and lyrical interwoven stories about family, sacrifice, the legacy of war, and the redemptive power of art.
This stunning, exquisitely written collection introduces a cast of remarkable characters whose lives intersect in ways both life-affirming and heartbreaking. A 1930s Soviet censor painstakingly corrects offending photographs, deep underneath Leningrad, bewitched by the image of a disgraced prima ballerina. A chorus of women recount their stories and those of their grandmothers, former gulag prisoners who settled their Siberian mining town. Two pairs of brothers share a fierce, protective love. Young men across the former USSR face violence at home and in the military. And great sacrifices are made in the name of an oil landscape unremarkable except for the almost incomprehensibly peaceful past it depicts. In stunning prose, with rich character portraits and a sense of history reverberating into the present, The Tsar of Love and Techno is a captivating work from one of our greatest new talents.
Praise for the Book
"Powerful…strikingly reimagines a nearly a century of changes in Russia. [T]he book's brilliance and humor are laced with the somber feeling that the country is allergic to evolution." —Kirkus Reviews (starred)
"As in his acclaimed novel, Marra finds in Chechnya an inspiration for his uniquely funny, tragic, bizarre, and memorable fiction." —Publishers Weekly (starred)

Event date:
Friday, November 9, 2018 - 7:00pm
Event address:
Yavapai College Library, 1100 E Sheldon St
Building 19, Room 147 (Susan N. Webb Community Room)