2 pm

| SATURDAY, MAY 12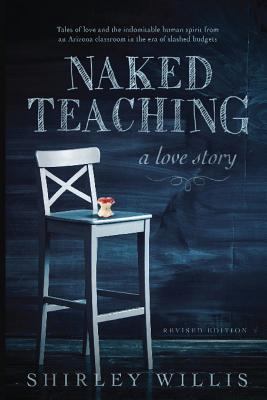 Naked Teaching: A Love Story shows you, like no other book, what happens to hopes and dreams when school budgets are stripped to the doorframe, hormones rage, friendships avalanche and beliefs are assaulted. Naked Teaching is set in the fictional Wild West town of Coyote Crossing, Arizona and is a warning of how your very own neighborhood school will look if the current anti-public school climate is allowed to completely ravage our children's future. The durable hope Naked Teaching offers springs from the kids and their indomitable spirit, nurtured by the unbreakable faith in and love for them from good people everywhere.
About the Book
Janine Waters never set out to be anyone's hero but at 60 years old, she moves to Arizona and plunges full time into the Wild West version of a middle school in rural northern Arizona-only this time as the rookie. Her classroom is the bad half of a butchered science lab with no budget, no books and no supplies. It is here that Janine has to prove all over again that the only legitimate power a teacher has is to free kids from the cone of shame echoing, "You're dumb, you're lazy and you're worthless." Her odds of success are near zero.
Enter Janine's sad, hilarious and brave classroom at Coyote Crossing Middle School. Meet Heliodoro, Bully Boy, Poet Boy, Peacemaking Girl, Sly Girl, Native American Princess, Bouncing Bonnie, Jug-Eared Ben and their paradigm-spouting principal, Call-Me-Ed, Mr. Edsel. Watch how slashed budgets, apathy, volatile racial prejudice, outrageously profitable standardized tests that never measure anything important and wagon loads of adolescent hormones fuel the minute by minute conflicts in the winner-takes-all education game. Naked Teaching: A Love Story's stark truths are guaranteed to fuel the debate about how our kids' education can be saved.
Watch an interview with the author on Sandy and Friends »
About the Author
For 34 years, Shirley Willis taught, consulted and administered programs for students with special needs in every disability category, kindergarten through twelfth grade, in Wisconsin, Maine and Arizona. After completing 61,753 pages of reports and forms, she retired to let out the stories whispering at the edge of her keyboard. She lives with her best-buddy husband, Richard, smack in the middle of Arizona's spectacular vistas. She holds an MS in administration and special education, all categories K-12, and a BS in elementary education and learning disabilities. She has been compared to a bull terrier when kids are marginalized with labels. She thinks she's persistent and amiable. Richard thinks she's both. Shirley Willis is a graduate of the University of Southern Maine. Naked Teaching is the first of a trilogy and her debut novel. Learn more about Shirley Willis »
Event date:
Saturday, May 12, 2018 - 2:00pm
Event address:
The Peregrine Book Company
219A North Cortez