5 pm

| WEDNESDAY, SEPTEMBER 12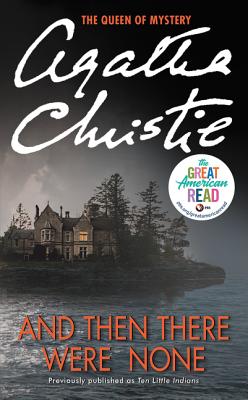 Join us for the Peregrine Book Company's Mystery Book Club, a club for readers of mysteries, suspense, thrillers, noir, and whodunnits. We meet on the second Wednesday of the month at 5 pm.
The book for each specific month will be available at 10% off the listed price.
* Please Note: The 10% discount applies to books that are currently in print and available to bookstores.
Questions or comments? Ask for Jon!
On September 12th we will discuss Agatha Christie's And Then There Were None.
About the Author and the Book
A PBS Great American Read Top 100 Pick
"The whole thing is utterly impossible and utterly fascinating. It is the most baffling mystery Agatha Christie has ever written."
— New York Times
One of the most famous and beloved mysteries from The Queen of Suspense—Agatha Christie—now a Lifetime TV movie.
"Ten . . ." Ten strangers are lured to an isolated island mansion off the Devon coast by a mysterious "U. N. Owen."
"Nine . . ." At dinner a recorded message accuses each of them in turn of having a guilty secret, and by the end of the night one of the guests is dead.
"Eight . . ." Stranded by a violent storm, and haunted by a nursery rhyme counting down one by one . . . as one by one . . . they begin to die.
"Seven . . ." Which among them is the killer and will any of them survive?
About the Author
---
Agatha Christie is the most widely published author of all time, outsold only by the Bible and Shakespeare. Her books have sold more than a billion copies in English and another billion in a hundred foreign languages. She died in 1976 after a prolific career spanning six decades.
Event date:
Wednesday, September 12, 2018 - 5:00pm
Event address:
The Peregrine Book Company
219A North Cortez