11 am

| WEDNESDAY, JANUARY 10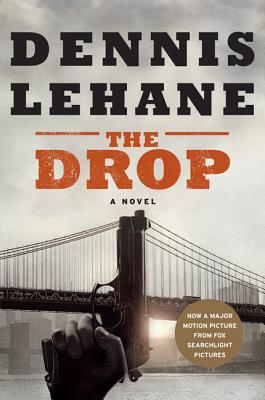 Join us for the Peregrine Book Company's Mystery Book Club, a club for readers of mysteries, suspense, thrillers, noir, and whodunnits.
The book for each specific month will be available at 10% off the listed price.
Questions or comments? Ask for Jon!
The book we will be discussing on January 10th will be The Drop by Dennis Lehane.
About the Author and the Book
Though Lehane's novels have seen success on the big screen, this was his screenwriting debut, and it preceded the writing of this book, which might be dismissed, in lesser hands, as a "novelization" of the film. It's richer than a mere re-creation of a movie on the page because the author gets inside the heads and thoughts of his characters in a way that a movie generally can't.
— Kirkus Reviews
Dennis Lehane returns to the streets of Mystic River with this love story wrapped in a crime story wrapped in a journey of faith—the basis for the major motion picture The Drop, from Fox Searchlight Pictures directed by Michael Roskam, screenplay by Dennis Lehane, and starring Tom Hardy, Noomi Rapace, and James Gandolfini.
Three days after Christmas, a lonely bartender looking for a reason to live rescues an abused puppy from a trash can and meets a damaged woman looking for something to believe in. As their relationship grows, they cross paths with the Chechen mafia; a man grown dangerous with age and thwarted hopes; two hapless stick-up artists; a very curious cop; and the original owner of the puppy, who wants his dog back. . . .
About the Author
---
Dennis Lehane grew up in Boston. Since his first novel, A Drink Before the War, won the Shamus Award, he has published twelve more novels that have been translated into more than 30 languages and become international bestsellers: Darkness, Take My Hand; Sacred; Gone, Baby, Gone; Prayers for Rain; Mystic River; Shutter Island; The Given Day; Moonlight Mile; Live by Night; and World Gone By. Lehane was a staff writer on the acclaimed HBO series The Wire and a writer-producer on the 4th season of HBO's Boardwalk Empire. Lehane currently is a writer and producer on the television adaptation of Stephen King's Mr. Mercedes and has two dramatic series in development for DirecTV.
Four of his other novels – Live by Night, Mystic River, Gone, Baby, Gone, and Shutter Island – have been adapted into films. In addition, Mystic River was a finalist for the 2001 PEN/Winship Award and won the Anthony Award and the Barry Award for Best Novel, the Dilys Award from the Independent Mystery Booksellers Association and the Massachusetts Book Award in Fiction from the Massachusetts Center for the Book. Live by Night was awarded the 2013 Edgar Award for Best Novel of the Year. In addition, Live by Night was awarded the gold medal for general fiction in the annual Florida Book Awards, and was in the top 3 of Readers Choice Awards at The House Of Crime and Mystery. In 2017 Live by Night was released as a major motion picture directed by and starring Ben Affleck. Dennis Lehane's most recent work is a stand-alone novel, Since We Fell (May 9, 2017).
Lehane was born and raised in Dorchester, Massachusetts. Before becoming a full-time writer, he worked as a counselor with mentally handicapped and abused children, waited tables, parked cars, drove limos, worked in bookstores, and loaded tractor-trailers. Lehane and his family live in California.
Event date:
Wednesday, January 10, 2018 - 11:00am
Event address:
The Peregrine Book Company
219A North Cortez