5:30 pm

| THURSDAY, APRIL 19

Local authors Paul Mitchell and Tim Laskowski will be at the Peregrine to share their recent books featuring poetry and the story of one man's challenge coping with a brain injury.

About the Authors and Their Books
Paul Mitchell, recently published his first chapbook A Few Poems.
He currently lives in the Upper Peninsula of Michigan and is the former Executive Director of Prescott's Coalition for Compassion and Justice. He's worked as a bi-lingual 5th grade teacher, an offset printer, a concrete manufacturer and a social justice ministry coordinator with Unitarian Universalist congregations throughout Arizona. He holds to his optimism that we have the necessary divine and human resources to make meaningful change in our world. Writing poetry helps.
The grandson of Polish immigrants, Tim Laskowski grew up in Erie, Pennsylvania, earning his B.A. in Social Work from Gannon University. He received his M.F.A. in Creative Writing from the University of Montana and his Ph.D. from Ohio University. He has worked for a Christian peace center, volunteered in Ireland, and worked in Child Protective Services.
He is a former president of the Montana chapter of VSA, a national organization that promotes art opportunities for people with disabilities. His fiction, poetry, essays, and reviews have appeared in many literary venues, and he is the author of Every Good Boy Does Fine, a novel about a man with a brain injury. Laskowski has also taught creative writing, literature, and social work courses at the university level. Along with his wife, Angelika Mitchell, Laskowski lives in Prescott Valley, Arizona, He is the Program Manager for U.S.VETS, an agency that serves homeless veterans.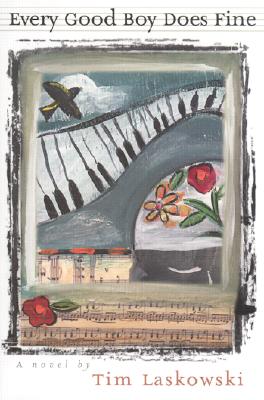 Tim Laskowski's first novel provides a unique insider's look into the world of a brain-injured man in his mid-thirties. More than a decade before the novel opens, Robert Nyquist suffered traumatic injury in a rock-climbing accident near his home in Missoula, Montana. His once-bright future irrevocably lost, he is now writing this account of his present life as he starts Transitions, a new rehab program that promises to teach him the skills necessary to leave the group home to live more independently. Robert is aided in his ambitious endeavor to record his thoughts by a volunteer writing coach, Ellen, who encourages him to articulate his feelings and helps him to make his memoir intelligible. Telling his story causes Robert to explore and re-define his relationships—with Lorna, another group home resident who is dying of multiple sclerosis and with whom he has established a sexual and emotional bond; with his parents, who are still struggling to accept their son's disabilities; with his adolescent son John, whose very existence still fills him with uncertainty; and with his caregivers. Robert's voice is that of a man desperate to achieve coherence and "appropriateness" in the midst of a swirling, confusing reality.
Event date:
Thursday, April 19, 2018 - 5:30pm
Event address:
The Peregrine Book Company
219A North Cortez