2 pm

| SATURDAY, JUNE 30
Join political author Peter de Krassel for what promises to be a lively discussion about U.S.- China relations.
"The failure of the U.S. delegation led by Treasury Secretary Steven Mnuchin to break the trade deadlock — and leaving Beijing earlier than expected without meeting Chinese leaders — is no surprise. The bilateral confrontation is about more than just trade issues. It is about economic and military global domination. A struggle between the world's two superpowers to redefine the future rules and their roles of power and hegemony in the twenty-first century. A subject I have written about extensively in my Custom Maid for New World Disorder trilogy and Feasting Dragon, Starving Eagle." —Peter de Krassel
About the Author and His Books
Peter Geoffrey de Krassel has been professionally involved in representing American and Chinese corporate business interests in their efforts to bridge the gap between Eastern and Western cultures. He has been a resident of Hong Kong, Manila and Shanghai since 1989. He was married to a Shanghainese-born wife with whom he has a son born in Hong Kong. He lived with his first American-born wife in Los Angeles with their grown children before moving to Asia. As chief executive officer of a strategic consultancy, he has traveled extensively throughout Asia, the Middle East, Europe and the Americas. He is the founder of trade publications focused on the cable and satellite business. He has also published and edited numerous articles on the media in Asia. His adolescence was spent traveling to areas of international conflict with his father David de Krassel, who was a correspondent with the BBC. His formal education took place mainly in Switzerland, Cyprus and Israel. After traveling to New York aboard the liner "Peace" in 1964, de Krassel attended CCNY and worked as a photographer before moving to the West Coast where he studied political science.
An honors graduate from the California State University system in comparative governments of the Middle East and Sino-Soviet Communism in 1968, he worked as a photographer at the Democratic National Convention that year in Chicago where he started law school before moving to San Francisco where he completed his law degree with honors in 1971. He practiced law with a top national firm specializing in banking and secured transactions, and became involved with partisan politics and fund-raising on a national level before concentrating on international business and political expediting with his own firm Counselors At Large. He resigned as the firm's CEO in 1998 to spend more time with his family and to explore the meaning of relationships and life. Peter de Krassel is author of the Custom Maid series of books. Learn more about the author »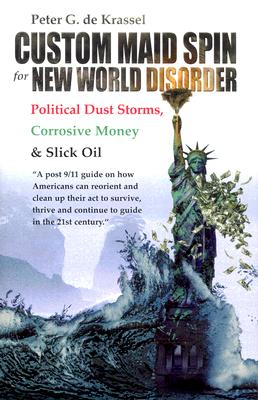 Custom Maid Spin for New World Disorder: Political Dust Storms, Corrosive Money and Slick Oil We the Maids, For the Maids, By the Maids — we are the maids that clean up and pay for America's geopolitical mess. A political manifesto for our difficult and troubled times, Custom Maid Spin for New World Disorder is a trenchant analysis of the political, social and moral ills that beset the United States. This is a book written for anyone with a stake in the future of America. Filled with witty personal anecdotes drawn from his experiences as a lawyer, a businessman and a political activist, de Krassel argues that America desperately needs to reform. He takes particular aim at the country's career politicians, sensationalist media and jingoistic culture. And he suggests ways in which America can put its house in order. The first chapter, The Hypocrisy of Fake Morality with Real Orgasms, examines how American journalists have increasingly focused on frivolous stories about the sex lives of public figures rather than the real issues affecting the country. In the years leading up to the 9/11 attacks, for example, more time was spent by the American media chasing the Monica Lewinsky affair than tackling difficult topics like the rise of Islamic extremism abroad or the long overdue need for campaign finance reform.
Further chapters cover racism and bigotry, religion, America's great opportunity in the new millennium, the breakdown of family structures, spin and disinformation. The book concludes with an exhortation to a return to the principles of the Founding Fathers. A new millennium offers a unique opportunity for change. It is a chance for Americans to retake control of their political system and reassess their values in an increasingly religious, stressed-out, debt-laden, consumerist society. Peter de Krassel was born in England of a Russian father and Palestinian Jewish mother. He has lived all over the world, including Switzerland, Israel and the United States. Currently he lives in Hong Kong. He has a unique perspective on world events both from the influences of the places he's lived in and the people he has met, as well as from his varied career.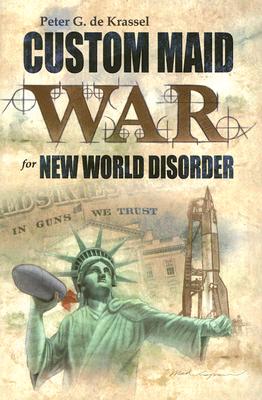 Custom Maid War for New World Disorder: In Guns We Trust Following on from Custom Maid Spin, Peter de Krassel turns his unique international perspective and controversial pen onto the business of war. In the course of reviewing the conflicts of the 20th century and today, he argues that to end, or at least minimize, the cycle of 21st century violence humanity is inflicting on itself, America must lead the peaceful charge for change. To do so Americans need to learn and understand the reasons for war and how future wars can be stopped. War is not the answer to hunger, oil, territorial expansion, ethnic cleansing or the survival of America. On the contrary it is its escalating destructive downfall. He points to China's re-emergence as a global power as America's greatest challenge - and one that must be resolved peacefully.
Event date:
Saturday, June 30, 2018 - 2:00pm
Event address:
The Peregrine Book Company
219A North Cortez