7 pm

| FRIDAY, SEPTEMBER 20
The Yavapai College Literary Southwest Series presents an evening with best-selling author Janet Fitch, who will read excerpts from her works. A discussion will follow. The author's books will be available for purchase at the event and at the Peregrine Book Company.
EVENT LOCATION: Yavapai College Library, Susan N. Webb Community Room, Building 19, Room 147. All readings are free and open to the public.
About the Author
Janet Fitch is an American author and teacher of fiction writing. She is the author of the #1 national bestseller White Oleander, a novel translated into 24 languages, an Oprah Book Club book and the basis of a feature film, Paint It Black, also widely translated and made into a 2017 film, and an epic novel of the Russian Revolution, The Revolution of Marina M. Her most recent book, Chimes of a Lost Cathedral, sees Marina Makarova's epic journey to a passionate conclusion.
Additionally, she has written a young adult novel, Kicks, short stories, essays, articles, and reviews, contributed to anthologies and regularly teaches at the Squaw Valley Community of Writers. She taught creative writing for 14 years in the USC Master of Professional Writing program, as well as VCFA's Writing and Publishing program, A Room of Her Own (AROHO), the UCLA Writer's Program, and Pomona College. She lectures frequently on fiction writing.
Fitch was a 2009 Likhachev Cultural Fellow to St. Petersburg, Russia, a Helen R. Whiteley Fellow, a Research Fellow at the Huntington Library and a Moseley Fellow at Pomona College. Fitch graduated from Reed College in Portland, Oregon in 1978 with a BA in History.
She lives in Los Angeles and travels whenever she gets the chance. Learn more about Janet Fitch »

About the Author's Most Recent Books
Chimes Of A Lost Cathedral
After the loves and betrayals of The Revolution of Marina M., young poet Marina Makarova finds herself alone amid the devastation of the Russian Civil War--pregnant and adrift, forced to rely on her own resourcefulness to find a place to wait out the birth of her child and eventually make her way back to her native city, Petrograd.
After two years of revolution, the city that was once St. Petersburg is almost unrecognizable, the haunted, half-emptied, starving Capital of Once Had Been, its streets teeming with homeless children. Moved by their plight, though hardly better off herself, she takes on the challenge of caring for these orphans, until they become the tool of tragedy from an unexpected direction.
Shaped by her country's ordeals and her own trials--betrayal and privation and inconceivable loss--Marina evolves as a poet and a woman of sensibility and substance hardly imaginable at the beginning of her transformative odyssey. Chimes of a Lost Cathedral is the culmination of one woman's journey through some of the most dramatic events of the last century--the epic story of an artist who discovers her full power, passion, and creativity just as her revolution reveals its true direction for the future.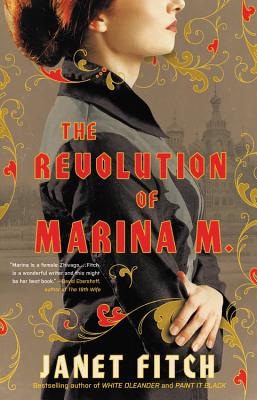 The Revolution of Marina M.
From the mega-bestselling author of White Oleander and Paint It Black, a sweeping historical saga of the Russian Revolution, as seen through the eyes of one young woman.
St. Petersburg, New Year's Eve, 1916. Marina Makarova is a young woman of privilege who aches to break free of the constraints of her genteel life, a life about to be violently upended by the vast forces of history. Swept up on these tides, Marina will join the marches for workers' rights, fall in love with a radical young poet, and betray everything she holds dear, before being betrayed in turn. As her country goes through almost unimaginable upheaval, Marina's own coming-of-age unfolds, marked by deep passion and devastating loss, and the private heroism of an ordinary woman living through extraordinary times. This is the epic, mesmerizing story of one indomitable woman's journey through some of the most dramatic events of the last century.
"Marina's unlikely bildungsroman proves so gripping that it's hard to put down...Fitch depicts [the Revolution] with devastating accuracy and imaginative power...sprawling, majestic."—Ani Kokobobo, LA Review of Books
Event date:
Friday, September 20, 2019 - 7:00pm
Event address:
Yavapai College Library, Building 19, Room 147 (Susan N. Webb Community Room)
1100 E Sheldon St.