1 - 2:30 pm

| WEDNESDAY, MARCH 21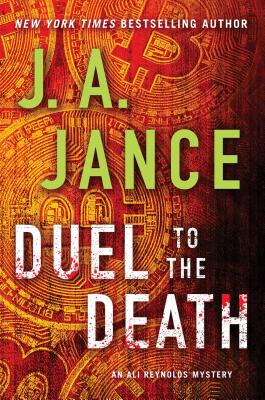 New York Times bestselling mystery author J.A. Jance returns to discuss and sign her new thriller, Duel to the Death, at the Prescott Valley Library. Jance brings back her popular heroine, forty-something female television newscaster Ali Reynolds, in this suspenseful novel. Books will be available for purchase and signing.
About the Book
From New York Times bestselling author and "grand master of the game" (The Providence Journal) J.A. Jance, an electrifying new thriller featuring Ali Reynolds.

After taking down the man responsible for his best friend's death, Stuart Ramey thinks the case is finally closed. That is, until Stu finds himself left with a multimillion dollar fortune in Bitcoin in a desperate bid by Frigg, a rogue A.I. program created by the killer, to keep itself from being fully deactivated.

To sort out his situation and take Frigg down for good, Stu enlists the help of Ali Reynolds and the rest of his cyber security colleagues at High Noon Enterprises. But they are not the only ones who know about Frigg's existence.

Graciella Miramar, an unassuming accountant to all appearances, is actually the right-hand woman to El Pescado, the leader of a dangerous drug cartel. She'll do anything to get her hands on that program. With Frigg's help, Graciella hopes to take over her father's criminal underworld and become wealthy beyond her wildest dreams. But Stu—and El Pescado and his henchmen—may not be so easily defeated.

Written in J.A. Jance's classic "take-no-prisoners" style (Kirkus Reviews), in this thriller, Stu, Ali, and their team will come to realize that everything has its price.
About the Author
J. A. Jance is the New York Times bestselling author of the J. P. Beaumont series, the Joanna Brady series, the Ali Reynolds series, and the Walker Family Series. Over twenty million copies of her books are in print. Born in South Dakota and brought up in Bisbee, Arizona, Jance lives with her husband in Seattle, Washington, and Tucson, Arizona.
In Her Own Words:
"One of the wonderful things about being a writer is that everything—even the bad stuff—is usable. The eighteen years I spent while married to an alcoholic have helped shape the experience and character of Detective J. P. Beaumont. My experiences as a single parent have gone into the background for Joanna Brady—including her first tentative steps toward a new life after the devastation of losing her husband in Desert Heat.
Another wonderful part of being a writer is hearing from fans. I learned on the reservation that the ancient, sacred charge of the storyteller is to beguile the time. I'm thrilled when I hear that someone has used my books to get through some particularly difficult illness either as a patient or as they sit on the sidelines while someone they love is terribly ill. It gratifies me to know that by immersing themselves in my stories, people are able to set their own lives aside and live and walk in someone else's shoes. It tells me I'm doing a good job at the best job in the world."
Learn more about J.A. Jance »
Event date:
Wednesday, March 21, 2018 -

1:00pm

to

2:30pm
Event address:
Prescott Valley Public Library
7401 E. Civic Circle