2:30 pm

| SATURDAY, MARCH 17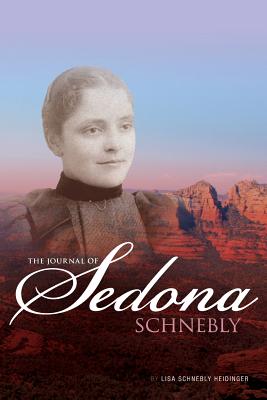 Anyone who has visited Sedona probably recognizes the name "Schnebly." We're fortunate to have Sedona Schnebly's great granddaughter, Lisa Schnebly Heidinger, at the Peregrine to discuss her remarkable relative and Arizona icon. According to author Mary Sojourner it will make you fall in love all over again with the beauty of northern Arizona.
About the Book
Great-granddaughter of Sedona Schnebly, Lisa Schnebly Heidinger has written nine other books about various aspects of Arizona before this tour de force journal, which is a culmination of decades conducting interviews and exploring archives. Voted OneBookAZ author for her Arizona Centennial book, she shares Sedona and T.C. Schnebly's deep love of Arizona, travel, and people. A former television and newspaper reporter, then editorial columnist, she draws readers into the story of a complex woman who became an accidental icon for Oak Creek Canyon, which draws millions of visitors around the world. The book includes thirty images from Schnebly family private collections.
Read a review of The Journal of Sedona Schnebly by Mary Sojourner on KNAU »
About the Author
Lisa Schnebly Heidinger has been collecting and sharing Arizona stories for decades. As a cub reporter for the Green Valley News she interviewed Barry Goldwater, and Rose Mofford, as well as Holocaust survivors, former Rockettes, and a local author whose friend, Jane Russell, served them lunch. Then, as a radio and TV reporter, in Tucson she did stories on Rev. John Fife of the Sanctuary movement, Dale Shewalter, as he was mapping the Arizona Trail, on Ft. Lowell re-enactors, and politicians (ask her about her favorite Evan Mecham quote). Lisa was one of the first reporters to interview polygamists in Colorado City in the mid-1980s. She moved to Flagstaff to open KTVK-TV3's Northern Arizona Bureau, where she reported on plane crashes, Grand Canyon issues, tribal politics and new breweries. She also crossed under the Arizona-Mexico border in a drug tunnel.
She met satellite operator Tom Heidinger at the Winslow prison; they married and Lisa spent weekends with him, still savoring the Bureau. Because it would be a bear to raise children that way, she moved to Phoenix and began a Sunday op-ed column called Arizona Correspondent, which ran for three years. She also wrote for Arizona Highways, taking new daughter Sedona, then son Rye Schnebly, with her around the state. Her first book was Tucson: The Old Pueblo, followed by nine more, all about various aspects of Arizona. Her most recent, The Diary of Sedona Schnebly, is her great-grandmother's story. Voted OneBookAZ author for the state centennial book, Lisa is a popular speaker around the region. She swears she's never had a cup of coffee she didn't savor, although a pot brewed in the morning at Gray Hills Trading Post that she found late in the afternoon came the closest. Learn more about Lisa Schnebly Heidinger »
Event date:
Saturday, March 17, 2018 - 2:30pm
Event address:
The Peregrine Book Company
219A North Cortez