5 pm

| SATURDAY, MAY 19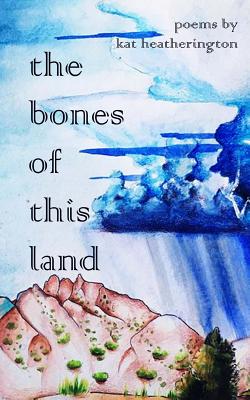 Kat Heatherington will perform poetry from her debut award-winning book, The Bones of This Land, which was inspired by the Prescott landscape. Copies of the book will be available for sale, and the author will remain after the reading to answer questions and sign copies. Megan Dean, also a Prescott poet and artist, will open for the author performing her own original poetry.
About the Book
"i grew up on a mining claim
in the mountains of central Arizona.
bear with me. i grew up
in a nice enough house
on the poor side of a small town
in the mountains of central Arizona."

That mine was the Navy Mine, an old copper mine in Copper Basin, and the small town in question was Prescott. The Bones of This Land tells the story of a woman's relationship with her father. It is a story of loss, alcoholism, struggle, and learning the meaning of unconditional love. It is a story inextricably interwoven with the land around Prescott, where all the memories it contains took place. And it is the story of losing a loved one to cancer, and the journey back to love and healing after that loss. The Bones of This Land was the winner of the 2017 Swimming With Elephants Publications chapbook competition.
Praise for the Book
The Bones of This Land is a remarkable tribute, filled with longing, regret, and elegiacal beauty. — Out In Print
About the Author
Kat Heatherington was born and raised in Prescott, and lived here until she went to college in a small town in southern Colorado. From there, she moved to Albuquerque, New Mexico, where she earned a Master's degree in Literature at University of New Mexico, where she now works. In 2007, she collaborated with the man who is now her husband and two other friends to buy a small farm in Albuquerque's south valley. The group formed Sunflower River intentional community, where they all still live. Heatherington has been writing poetry since age 8, and has been published in many regional magazines and literary journals, including Malpais Review, Adobe Walls, and the Harwood Anthology. This is her first published book. Learn more about Kat Heatherington »
Event date:
Saturday, May 19, 2018 - 5:00pm
Event address:
The Peregrine Book Company
219A North Cortez