**CANCELLED** Rescheduled for September 20, 2019
7 pm

| FRIDAY, FEBRUARY 22
The Yavapai College Literary Southwest Series presents an evening with best-selling author Janet Fitch, who will read excerpts from her works. A discussion will follow. The author's books will be available for purchase at the event and at the Peregrine Book Company.
EVENT LOCATION: Yavapai College Library, Susan N. Webb Community Room, Building 19, Room 147. All readings are free and open to the public.
About the Author
Janet Fitch is the author of the best-selling novels White Oleander, an Oprah's Book club pick, and Paint it Black, both made into feature films. Her recent novel, The Revolution of Marina M., is set during the Russian Revolution. Her short fiction and essays have been widely published in anthologies and journals such as Black Warrior Review, Black Clock, Los Angeles Noir, Room of One's Own, the Los Angeles Times, and the Los Angeles Review of Books. She has received a Likhachev Fellowship to St. Petersburg, Russia, a Helen R. Whiteley Fellowship, and has taught creative writing at the Esalen Institute, at USC's Master of Professional Writing program, and at the Vermont College of Fine Arts MFA program, as well as teaching regularly at the Squaw Valley Community of Writers workshops. Her popular Writing Wednesday writing tip videos can be found on her author Facebook page. She lives in Los Angeles. Learn more about Janet Fitch »
About the Author's Most Recent Book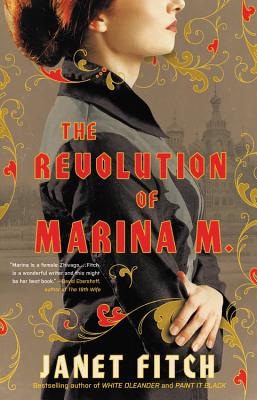 From the mega-bestselling author of White Oleander and Paint It Black, a sweeping historical saga of the Russian Revolution, as seen through the eyes of one young woman.
St. Petersburg, New Year's Eve, 1916. Marina Makarova is a young woman of privilege who aches to break free of the constraints of her genteel life, a life about to be violently upended by the vast forces of history. Swept up on these tides, Marina will join the marches for workers' rights, fall in love with a radical young poet, and betray everything she holds dear, before being betrayed in turn. As her country goes through almost unimaginable upheaval, Marina's own coming-of-age unfolds, marked by deep passion and devastating loss, and the private heroism of an ordinary woman living through extraordinary times. This is the epic, mesmerizing story of one indomitable woman's journey through some of the most dramatic events of the last century.
Praise for the Book
"Marina's unlikely bildungsroman proves so gripping that it's hard to put down...Fitch depicts [the Revolution] with devastating accuracy and imaginative power...sprawling, majestic."—Ani Kokobobo, LA Review of Books
Event date:
Friday, February 22, 2019 - 7:00pm
Event address:
Yavapai College Library, 1100 E Sheldon St
Building 19, Room 147 (Susan N. Webb Community Room)