6 pm

| WEDNESDAY, FEBRUARY 21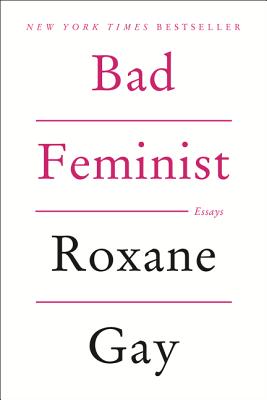 Join us for a monthly book club featuring feminist authors and works. We're looking to form a community of people interested in learning about feminism as it affects the many aspects of our lives through books, reading, and discussion. Our goal is to build and strengthen the feminist community in the Prescott area, learn and grow from each other's experiences and contributions, and create a spring board for feminist-centered, intersectional social change in our community and beyond.
The book for each specific month will be available at 10% off the listed price.
Questions or comments? Send an email to Desiree Perez: dperez@ppaz.org
The book we will be discussing on February 21st will be Roxane Gay's Bad Feminist.
About the Author and the Book
From the author of Hunger: A Memoir of (My) Body, the New York Times Bestseller and Best Book of the Year at NPR, the Boston Globe, Newsweek, and many more
A collection of essays spanning politics, criticism, and feminism from one of the most-watched young cultural observers of her generation, Roxane Gay.
"Pink is my favorite color. I used to say my favorite color was black to be cool, but it is pink—all shades of pink. If I have an accessory, it is probably pink. I read Vogue, and I'm not doing it ironically, though it might seem that way. I once live-tweeted the September issue."
In these funny and insightful essays, Roxane Gay takes us through the journey of her evolution as a woman (Sweet Valley High) of color (The Help) while also taking readers on a ride through culture of the last few years (Girls, Django in Chains) and commenting on the state of feminism today (abortion, Chris Brown). The portrait that emerges is not only one of an incredibly insightful woman continually growing to understand herself and our society, but also one of our culture.
Bad Feminist is a sharp, funny, and spot-on look at the ways in which the culture we consume becomes who we are, and an inspiring call-to-arms of all the ways we still need to do better, coming from one of our most interesting and important cultural critics.
About the Author
---
Roxane Gay's writing has appeared in Best American Short Stories 2012, Best Sex Writing 2012, Oxford American, American Short Fiction, Virginia Quarterly Review, NOON, The New York Times Book Review, The Rumpus, Salon, The Wall Street Journal's Speakeasy culture blog, and many others including her Tumblr, roxanegay.tumblr.com. She is the co-editor of PANK and essays editor for The Rumpus. She teaches writing at Eastern Illinois University. She tweets at @rgay.
Event date:
Wednesday, February 21, 2018 - 6:00pm
Event address:
The Peregrine Book Company
219A North Cortez