3 pm

| SATURDAY, OCTOBER 20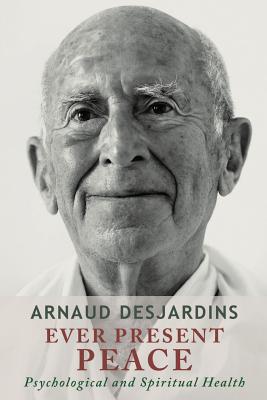 Former Prescott College instructor Regina Sara Ryan and translator Didier deAmorin will be at the Peregrine to present the last book by the famous French spiritual teacher Arnaud Desjardins. Ever Present Peace: Psychological and Spiritual Health shows how "Peace of mind and heart is possible, for you, here and now . . .". Originally written in French, the book has been translated into English by Didier deAmorin. DeAmorin will recount the 40 years he spent as a student of Arnaud's, living on his French ashrams.
About the Book
When Christian author and contemplative monk Thomas Merton made his first and legendary trip to Asia in 1968, he carried only a few books with him. One of these, The Message of the Tibetans, was written by a young French filmmaker named Arnaud Desjardins. Ever Present Peace is Desjardins' unique testimony following upon a lifetime of commitment to the spiritual Path. It is also the final work (he died in 2011) of a prolific author (more than 20 books) and spiritual teacher, in which he summarizes and highlights the core elements of his teaching over the past 40 years. Arnaud Desjardins was and remains "a Teacher's Teacher" – world-known and deeply-respected by his peers from varied religious traditions for his brilliant and kind presence, and for his spectacular ability to integrate the great dharmic teachings of both East and West.
This book is based on his experience as a student, a disciple and as a teacher who tirelessly worked with tens of thousands of individuals and groups, personally and through his writings, helping them to gain insight into the nature of their minds and the ways in which they have prevented their true nature from revealing itself. Topics include: the nature of human suffering; the meaning of love; how peace is lost and how it is found; the advantages of working with a teacher or master, and how this legacy can be simply applied in everyday life. Readers will be inspired to look more closely at how they choose to live their lives.
About the Author
Arnaud Desjardins (1925-2011), a French spiritual teacher, began his career as a filmmaker for French TV. Through his documentary work in Asia he met eminent spiritual persons of the day, including Anandamayi Mâ, Swâmi Ramdas, Dalai Lama, Afghani Sufi sages. His introduction to "work on self" came through Gurdjieff's teaching, particularly under Jeanne de Salzmann, culminated in discipleship to the Hindu teacher, Swâmi Prajnanpâd, who became his root guru. For over forty years, Desjardins worked with thousands of students worldwide, his teachings are recorded in over 20 published books.
About the Presenters
Didier deAmorin, translator, first met Desjardins through his books in 1978, at age 18, and claims his life turned around from that point on. A disciple of over 40 years, he spent from 1995-2011 on the staff of his teacher's ashram in the south of France. He married his wife Brigitte in 1980, with the blessing and ongoing guidance of his teacher. The couple have four children. His translation of this book was a labor of love, as he wished to share these profound teachings with English-speaking friends, since they continue to inform his own life at every turn.
Regina Sara Ryan, editor, first met Arnaud Desjardins at his French ashrams in the early 1990s, and continued to see him as a spiritual teacher of great wisdom and compassion. She had edited previous books of his for Hohm Press, where she serves as managing editor. She is also the author of numerous books about spiritual life and practice. Regina lives in Paulden, Arizona.
Event date:
Saturday, October 20, 2018 - 3:00pm
Event address:
The Peregrine Book Company
219A North Cortez