Anunnaki Tarot (The Babylonian Oracle): Ancient Archetypes of The Major Arcana in Mesopotamia (Hardcover)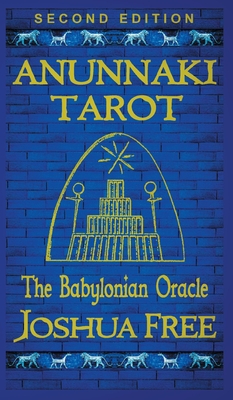 $32.95

Available from our Warehouse (Not in store currently)
Description
---
The Babylonian (post-Sumerian) Anunnaki Archetypes Make a Proper Tarot Appearance For the First Time in this Collector's Hardcover Edition Reissue
"Anunnaki Tarot: The Babylonian Oracle" is a guidebook written by Joshua Free to properly illustrate archetypal symbolism of the Major Arcana as drawn from ancient Mesopotamian / Babylonian cuneiform tablet sources for modern divination. It is a collector's hardcover second edition companion to the 'Anunnaki Tarot Major Arcana Oracle Card Deck (Unlimited Edition)' distributed separately by the Mardukite Offices and Founding Church of Mardukite Zuism directly by personal arrangement or its affiliate outlets.
Due to the underground and independent nature of our work and material released from JFI Publishing (the 'Joshua Free Imprint'), commercially boxed 'combos' (featuring book and cards) have still yet to be established. This is important to note, because it is the only complaint from those obtaining the First Edition of the guidebook by itself over the past three years, in spite of being clearly indicated in all official book descriptions.
Rather than significantly reiterate material from many other previous volumes already written by Joshua Free (such as 'The Complete Anunnaki Bible', 'Sumerian Religion' and 'Babylonian Myth and Magic'), this unparalleled remarkable keepsake edition of "Anunnaki Tarot: The Babylonian Oracle" (first released from the underground as a paperback in 2019) does uniquely and concisely align Tarot symbolism with a comprehensive review of Anunnaki archetypes as they appear in ancient 'Babylonian Mardukite' tradition, mythology and religion. This special collector's hardcover edition of the guidebook preserves the formatting and information provided in the original version -- with an expanded Appendix (and the 'paper deck' removed).
With the amount of attention that the Tarot receives -- and the amount of effort placed on Cabalistic orientation of the cards -- it seems peculiar that it took until now for someone to represent the very truth that both the Hebrew Kabbalah and the ancient archetypes of civilization actually originate in Mesopotamia. And Joshua Free has done just that Every modern "Mardukite" is aware of this basic premise; and not simply because they are told so, but because it is readily visible or obvious during their personal study of the material translated from ancient cuneiform tablets and while pathworking the "Gates" of the Anunnaki themselves.
In view of these facts, this divination system of "Anunnaki Tarot" represents something quite different than what you might find elsewhere. Rather than take an arbitrary theme and impose tarot symbolism onto it, the esoteric knowledge base collected as the Mardukite Research Core regarding Anunnaki traditions has allowed a direct bridge between these two aspects -- the tarot and the Anunnaki -- in a way that is both historically authentic and mystically valid. The final result is a divination tool that is both functionally practical and useful to practitioners of modern "Mardukite neo-Babylonian spirituality" and what's more: it further reaches to shine a new comprehensive light on an otherwise exhausted subject of the Tarot mysteries.
'Open the Gates of Understanding' and discover the Babylonian Oracle of Cosmic Wisdom for yourself