Ya No Seas Codependiente (Codependent No More): Aprende a ocuparte de ti mismo: Como vivir y evitar una relacion enferma con seres queridos que son comedores compulsivos, adictos al alcohol, tabaco, drogas, sexo (Paperback)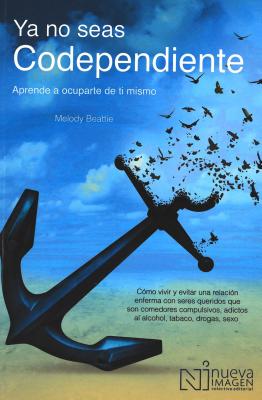 Description
---
Millones de lectores han utilizado como referente sanador este clásico moderno de autoayuda, que tiene la clave para comprender y superar la codependencia, de uno de los escritores más queridos e inspiradores de los Estados Unidos.

¿Es el problema de los demás tu problema? Si, como tantas otras personas, has perdido de vista tu propia vida en el drama de atender a otra persona, tú puedes ser codependiente, e identificarte en este libro: Ya No Seas Codependiente.

Ya No Seas Codependiente, con relatos instructivos de la vida, reflexiones personales, ejercicios y autopruebas, es un mapa simple, directo y entretenido del desconcertante mundo de la codependencia, que muestra el camino hacia la libertad y el crecimiento personal, además de toda una vida de curación, esperanza y felicidad.

Otros títulos de Melody Beattie que se han traducido al español son: Más allá de la codependencia (Beyond Codependency) y El lenguaje del adiós (The Language of Letting Go).
About the Author
---
Melody Beattie ha escrito numerosos libros sobre el crecimiento y las relaciones personales, y su mensaje se basa en la sabiduría curativa de los Doce Pasos, el cristianismo y las religiones orientales. Con la publicación en 1986 de Ya No Seas Codependiente, Melody se convirtió en una de las principales voces de la literatura de autoayuda cautivando a millones de lectores empeñados en tener relaciones más sanas. Ella vive en Malibu, California.