Japanese Chess: The Game of Shogi (Paperback)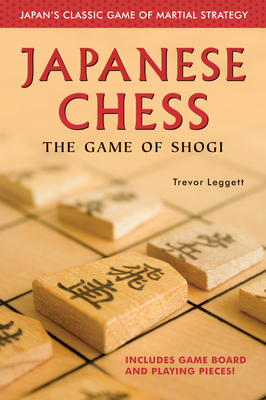 $18.95

Available from our Warehouse (Not in store currently)
Description
---
Learn and master the fascinating game of Japanese Chess or "Shogi" with this expert guide and chess set.
Japanese Chess: The Game of Shogi
is the ultimate strategy guidebook for players of any skill level to improve their game and winning strategies. Played by millions around the world, Shogi is the uniquely Japanese variant of chess. It is the only version in which an opponent's captured piece can be dropped back onto the board as one's own. This makes for extremely exciting, dynamic gameplay in which momentum can quickly shift back and forth between players. Trevor Legett, expert player and longtime resident of Japan, gives you all the information you need to play the game, form its basic rules to winning tactics.
Also included in this book are:
Sample game and commentary
Discussion of various opening strategies and game positions
Explanation of how to read a Japanese score
Fold-out Shogi board
Sturdy paper playing pieces
Japanese Chess
features everything you need to get started playing this challenging and fun game.
About the Author
---
Trevor Leggett rose to the rank of fourth dan in shogi, a major achievement since first dan is considered excellent for an amateur. He is the author of Zen and the Ways.