Yellow Birds (Litterature & Documents) (Paperback)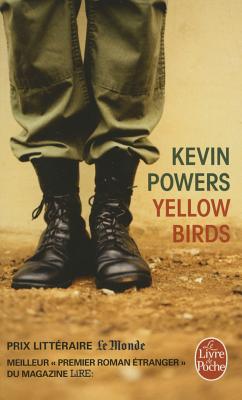 This item is not available for sale on this site.
September 2012 Indie Next List
---
"The Yellow Birds should be required reading for the President, the Congress, and the entire Military Industrial Complex. Powers' novel describes in lyrical language the intensity and the confusion of war. Young men who have barely left boyhood face battle for the first time in Iraq, a country and a people that they know little about. For those fortunate enough to return home, the war comes with them and affects their families as well. In eloquent prose, Iraq war veteran Powers unveils the hidden costs of war for the average American. Truthful and painful, The Yellow Birds will join the classics of war fiction."
— Joan Grenier, Odyssey Bookshop, South Hadley, MA
Description
---
Bartle, 21 ans, est soldat en Irak, a Al Tafar. Depuis l'entrainement, lui et Murphy, 18 ans, sont inseparables. Bartle a fait la promesse de le ramener vivant au pays. Une promesse vaine... Murphy mourra sous ses yeux et le hantera toute sa vie. Yellow birds nous plonge au coeur des batailles ou se deroule le quotidien du regiment conduit par le sergent Sterling. On y decouvre les dangers auxquels les soldats sont exposes jour apres jour. Et le retour impossible a la vie civile.Un roman americain magistral que Tom Wolfe n'a pas hesite a decrire comme etant le A l'Ouest rien de nouveau du conflit irakien. Nicolas Ungemuth, Le Figaro magazine.L'ecriture eminemment poetique de Kevin Powers eleve Yellow Birds bien au-dela du recit brut. Elisabeth Philippe, Les Inrockuptibles.Yellow Birds est un hymne vertigineux aux morts vivants. L'oraison de ceux qui rentrent. Nils C. Ahl, Le Monde des Livres.