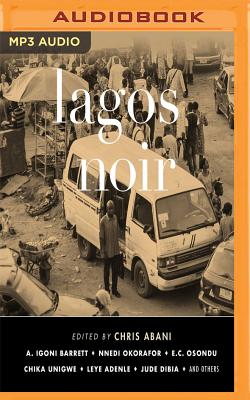 Description
---
Akashic Books continues its award-winning series of original noir anthologies, launched in 2004 with Brooklyn Noir. Each book comprises all new stories, each one set in a distinct neighborhood or location within the respective city. Now, West Africa enters the Noir Series arena, meticulously edited by one of Nigeria's best-known authors.
Brand-new stories by Chris Abani, Nnedi Okorafor, E.C. Osondu, Jude Dibia, Chika Unigwe, A. Igoni Barrett, Sarah Ladipo Manyika, Adebola Rayo, Onyinye Ihezukwu, Uche Okonkwo, Wale Lawal, 'Pemi Aguda, and Leye Adenle.
From the introduction by Chris Abani: Lagos has, like many coastal cities, a very checkered and noir past. It is the largest city in Nigeria and its former capital. It is also the largest megacity on the African continent, with a population approximating 21 million, and by itself is the fourth-largest economy in Africa.... It is rumored that there are more canals in Lagos than in Venice. Except in Lagos they are often unintentional. Gutters that have become waterways and lagoons fenced in by stilt homes or full of logs for a timber industry most of us don't know exists. All of it skated by canoes as slick as any dragonfly. There are currently no moonlight or other gondola rides available....
The 13 stories that comprise this volume stretch the boundaries of noir fiction, but each one of them fully captures the essence of noir, the unsettled darkness that continues to lurk in the city's streets, alleys, and waterways.... Together, these stories create an unchartered path through the center of Lagos and out to its peripheries, revealing so much more truth at the heart of this tremendous city than any guidebook, TV show, film, or book you are likely to find.
In the introduction to this excellent anthology, Abani welcomes readers to Lagos, Nigeria, a city of more than 21 million and an amazing amalgam of wealth, poverty, corruption, humor, bravery, and tragedy. Abani and a dozen other contributors tell stories that are both unique to Lagos and universal in their humanity.... This entry stands as one of the strongest recent additions to Akashic's popular noir series. (Publishers Weekly, starred review)
Lagos, the largest city in Nigeria, with a population of 21 million, has, like many coastal cities, a 'very checkered and noir past, ' writes novelist Chris Abani in his introduction to this anthology. (BBC Culture)
The beauty of this book, which contains 13 stories from Nigerian writers, is that it serves as a travelogue, too. (Bloomberg, included in The Darkest Summer Reading List for Those Bright, Beachy Days)