Love, the Magician (Paperback)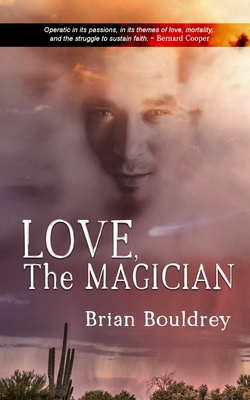 $16.95

Available from our Warehouse (Not in store currently)
Description
---
In April of 1997, Tristan Broder makes a pilgrimage of sorts from San Francisco to the prickly desert and scalped mountains around Tucson, Arizona, the place where he helped bury his partner Joe five years before. Guided by a comet that crossed the spring sky that year, he wanders toward renewal and resurrection, memory and mystery, deadly secrets and dark intentions.
There are plenty of people in the desert who still love Tristan as much as they did Joe. There's Maria, Joe's wild sister, now a converted Pentecostal; her truck-driving husband Earl; Joe's mother with the dog Murphy she found one day abandoned in the desert; and Joe's best friend Mik, a tough-minded Punjabi Muslim whose one vanity is his long silken hair. With open and glad hearts, they join Tristan to help him make a memorial to the whole-souled man he loved. Yet, despite the fact that they are all bound, like Tristan, by the memory and love for the saint who once lived among them, every one of them is hiding something.
Originally published in 2000, this new edition includes a foreword by Miriam Wolf and a new introduction by the author.
"Brian Bouldrey's Love, the Magician is operatic in its passions, as well as in its themes of love, mortality, and the struggle to sustain faith. And yet the author never loses sight of his novel's human dimensions, giving us fresh and memorable characters. This book is, to quote the protagonist, Tristan Broder, an awesomely dark story about a prolonged mistake.' It is also a book that sheds a bright, uncompromising light on one man's reckoning with fate." - Bernard Cooper, Truth Serum
"Brian Bouldrey's writing is so smart, and so risky, and consistently carries that precarious, curious balance between humor and heartbreak. I'm never certain whether to bust out laughing or burst into tears. Love, the Magician is filled with examples of what its narrator calls 'the little node of miracle that every human must have.' It's a really, really terrific novel." - Scott Heim, Mysterious Skin
"Love, the Magician is a modern-day pilgrimage to the intersection of love and death, faith and its loss, the rituals of worship and the rituals of pleasure. By turns comic and unsettling, lyrical and brutal, it is a tour de force of storytelling - a passionate voice in search of miracles." - Jean Thompson, Who Do You Love