SAT Critical Reading and Writing Prep Course (Paperback)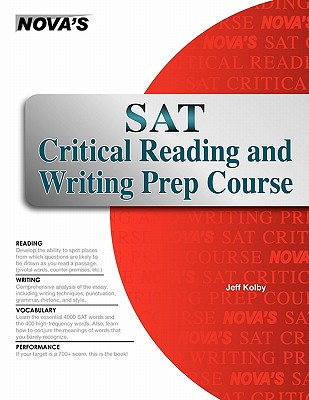 $34.95

Available from our Warehouse (Not in store currently)
Description
---
Comprehensive Prep for SAT Critical Reading and Writing.
Every year, students pay $1,000 and more to test prep companies to prepare for the Critical Reading and Writing sections of the SAT. Now you can get the same preparation in a book.
Although the SAT Reading and Writing sections are difficult, they are very learnable. SAT Critical Reading and Writing Prep Course presents a thorough analysis of SAT reading and writing and introduces numerous analytic techniques that will help you immensely, not only on the SAT but in college as well.
Features:
* Reading: Develop the ability to spot places from which questions are likely to be drawn as you read a passage. (pivotal words, counter-premises, etc.)
* Writing: Comprehensive analysis of the essay, including writing techniques, punctuation, grammar, rhetoric, and style.
* Vocabulary: Learn the essential 4000 SAT words and the 400 high-frequency words. Also, learn how to conjure the meaning of words that you barely recognize.
* Performance: If your target is a 700+ score, this is the book