Ducati Bevel Twins: 750GT, Sport and Sport S, 860GT, GTE, GTS, 900 SS, GTS, SD, SSD, MHR, S2, Mille 1971 to 1986 (The Essential Buyer's Guide) (Paperback)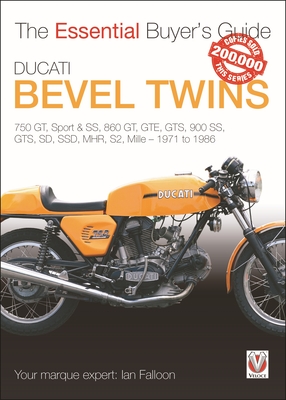 Description
---
Packed with good advice on choosing the right Ducati bevel twin, with a comprehensive inspection guide and in-depth analysis of strengths and weaknesses, this book covers desirable upgrades, modifications to avoid, valuation and predicting which models will become collectable (if they aren't already).

Illustrated throughout with photos of key areas to check and foibles to be aware of, and featuring details ranging from the Ducati community, to whether a Ducati bevel twin will suit you and your lifestyle, this is the complete guide to choosing, assessing, and buying the Ducati bevel twin of your dreams.

Ducati Bevel Twins is written by Ian Falloon, an expert who enjoyed a close association with the factory and the engineers during the period these bikes were manufactured, providing him with an invaluable insight into their development. He has been involved with Ducati motorcycles, and bevel twins in particular, for nearly 40 years and, in addition to writing several books covering these models, he is an avid restorer with over 20 bevel twin restorations to his credit. 
About the Author
---
Ian Falloon was born in New Zealand and studied engineering and music at Victoria University, Wellington. After a motorcycle accident brought an end to his career as a symphony orchestra oboist, he began writing articles about motorcycles for magazines including Classic Bike, Cycle World, Motorcyclist, Two Wheels, Motorcycle Sport, and Australian Motorcycle News. His first book, The Ducati Story, has run to several editions and has been published in three languages. The success of The Ducati Story led to a series of Ducati books and histories of Honda, Kawasaki, BMW, and Moto Guzzi motorcycles including Motorbooks titles The Complete Book of Ducati, The Complete Book of Moto Guzzi, The Complete Book of Triumph Motorcycles, and The Art of Ducati. With an interest and passion spanning decades, Ian now concentrates on collecting and restoring older Italian motorcycles, particularly Ducati, MV Agusta, Laverda, and Moto Guzzi. He lives in Melbourne, Australia, and is ably supported in his projects by his family.