Mercedes-Benz W114 and W115: The Complete Story (Hardcover)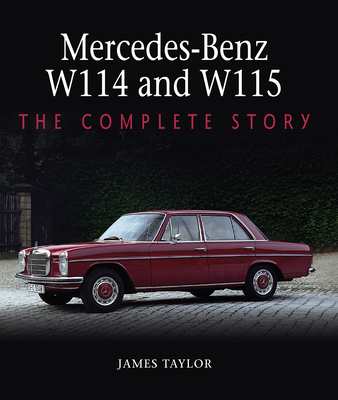 Description
---
The W114 and W115 models were enormously successful for Mercedes-Benz, and their sales in nine years of production between 1967 and 1976 almost equalled the total of all Mercedes passenger models built in the 23 years between 1945 and the time of their introduction in 1968. 

There were many reasons for this success, but perhaps the most important was that Mercedes expanded the range to include a simply vast amount of variants including four-cylinder and six-cylinder petrol engines, four-cylinder diesels; saloons, coupes and long-wheelbase models.

This book features the story of the design and development of the W114 and W115 ranges. It gives an extensively illustrated look at the special bodywork on both standard and long-wheelbase models, and includes full technical specifications, including paint and interior trim choices. There is a chapter on the special US variants. Production tables and model type codes are given as well as the Experimental Safety Vehicles developed from these cars. Finally, there is a chapter on buying and owning a 114- or 115-series Mercedes.

Today, the W114s and W115s have a strong enthusiast following around the world. They are appreciated as survivors from a simpler age, as the cars that laid the foundations for the hugely successful ranges of mid-sized saloons that followed from Mercedes, and because of the sheer diversity of their types and specifications. No enthusiast of these fine models will want to be without this book.
About the Author
---
After graduating from Oxford and pursuing further academic studies at Reading, James Taylor spent 12 years working in central government. However, the lure of writing about cars – which he was doing in his spare time – proved too great and he decided to turn it into a career. James has now written well over 100 books in all, and among them have been several definitive one-make or one-model titles. He has written for enthusiast magazines in several countries, has translated books from foreign languages, and even delivers effective writing training in both the public and private sectors. He spent the best part of ten years as the editor of Land Rover Enthusiast magazine and has always counted the products of the old Rover Company and of Land Rover as his favourite subject. He also co-organised the "15 Years of Rover V8" event at Donington in 1982.