Lois Lane: Enemy of the People (Paperback)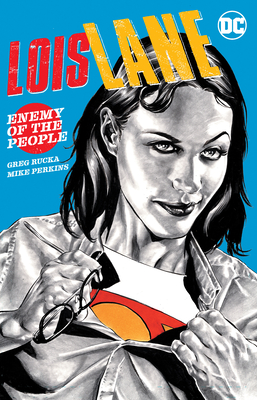 Description
---
She uncovered the most dangerous secret in the DC Universe...now she just has to prove it!

After a press briefing at the White House--and carrying a secret that could disrupt Superman's life--Lois Lane embarks on a harrowing journey to uncover a threat to her husband and research that reaches the highest levels of international power brokers and world leaders. Critically acclaimed and bestselling author Greg Rucka and master storyteller Mike Perkins team up for a tale of conspiracy, intrigue, and murder that tests the limits of tough-as-nails investigative journalist Lois Lane.

Collects LOIS LANE #1-12.
About the Author
---
Greg Rucka is a novelist whose work on Batman brought fresh attention to the character and to the inhabitants of Gotham City. He won the Eisner Award for Best Story with Gotham Central's "Half a Life." His other DC credits include Action Comics, Adventures of Superman, Wonder Woman, the Batwoman adventures in Detective Comics, and Superman: World of New Krypton. He was one of the co-writers of DC's weekly series 52.