Talker's Town and the Girl Who Swam Forever: Two Plays (Paperback)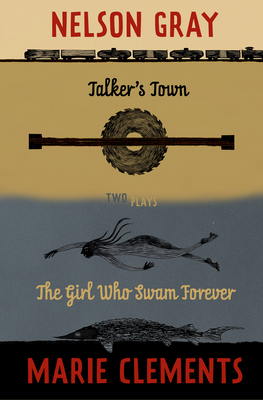 $18.95

Available from our Warehouse (Not in store currently)
Description
---
The two one-act plays in Talker's Town and The Girl Who Swam Forever are set in a small northern B.C. mill town in the 1960s. They portray identical characters and action from entirely different gender and cultural perspectives. In many ways, the two separate works are inter-related coming-of-age stories, with transformation as a key theme.
The central action in both plays involves an Aboriginal girl, Roberta Bob, who escapes from a residential school and hides out by the river. In Nelson Gray's
Talker's Town
, the story is conveyed by a teenage non-Indigenous boy whose friend has had a relationship with the girl and whose attempts to hush up the affair lead to disastrous consequences. In Marie Clements's
The Girl Who Swam Forever
, the action unfolds from the perspective of the girl, who - to claim her past and secure her future - must undergo a shape-shifting transformation and meet her grandmother's ancestral spirit in the form of a hundred-year-old sturgeon. Employing a single setting and working with the same set of characters, the playwrights have created two radically different fictional worlds, one Aboriginal and one non-Aboriginal. Published together, the plays form a fascinating diptych that reveals rifts between Indigenous and colonial/settler histories and provides a vehicle for cultural exchange. As a starting point for trans-cultural dialogue, this set of plays will be of interest to educators, theatre directors, and the general reader interested in the current discourse arising from Canada's Truth and Reconciliation Commission, Idle No More, and the Indigenous Rights Movement happening throughout North America. Read as a set, these two plays also invite conversations about negotiating creative boundaries, particularly with respect to eco-centric politics and cultural appropriation.
Talker's Town
: cast of 5 men and 1 woman.
The Girl Who Swam Forever
: cast of 2 women and 2 men.