The Little Coven (Hardcover)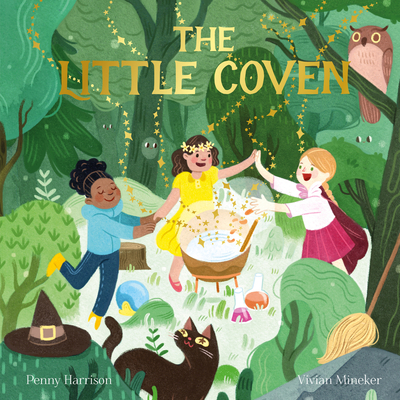 Description
---
Three best friends mix magic – they whisper secrets of the soul.
And the things that make them different, when together, make them whole.   

A story of three girls who are different in many ways, but are united by the special bond of friendship. The unique power of female friendship is celebrated as we watch these friends support and uplift each other as they move through life – from children playing at casting spells and making potions to young women coming together to talk and laugh under the stars.
About the Author
---
Penny Harrison is a children's author, book reviewer, garden writer and lifestyle journalist. A professional writer for more than 20 years, she has contributed to a variety of leading magazines, newspapers, guides and books, writing about everything from raising toddlers to raising chickens.  Penny grew up on a farm in central-western NSW and spent her days exploring the bush and planning treasure hunts with her four brothers and sisters. Nowadays, she lives in a rambling old garden in the Yarra Valley with her husband, two young children and an ever-growing menagerie of animals and plants.

Vivian Mineker is a Taiwanese American illustrator from Taipei and Portland, OR, currently living in Slovenia. Her process usually starts with watercolor and colored pencils and finishes on the computer for fine details and adjustments. She is the illustrator for new editions of Robert Frost's Stopping by Woods on a Snowy Evening and The Road Not Taken.
Praise For…
---
"A coven of three witches demonstrates that the magic of friendship can last a lifetime in this heartwarming tale" — Foreword Reviews