Forty-One's Journey: A car, The dream, Their story (Hardcover)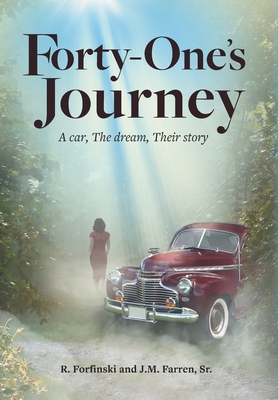 $33.95

Available from our Warehouse (Not in store currently)
(This book cannot be returned)
Description
---
Forty-One's Journey
A car, The dream, Their story
Near the epicenter of America's automotive industry were millions of cars, but only one had a unique spirit and was named Forty-One. She was an exceptional 1941 automobile. A car owned and cherished by the same woman for over fifty-nine years. You will experience the woman's anguish when the car is sold against her will, shattering the dream to reunite herself and the car with her long-lost love. But can she? Their story begins in the nineteen-thirty's and culminates in the twenty-first century when her beloved auto is taken on an inexplicable journey.
Meet Aunt Fiery in 1959, as she reveals a glimpse of her early life. Discover how she and her friends endured the great depression, survived on World War II's home front, and the way they used automobiles. See how a chance encounter with a neighbor bonds her to the woman's son decades later. During the nineteen-seventies the woman's son matures and later fights to introduce new technologies, into a conservative corporation. In the midst of it all, he purchases an antique vehicle.
After a lengthy search for the car's original owner, he discovers a link to the aunt. In an unexpected setting, she shares the secrets from her life with him and his wife. Secrets she has never even spoken about to her own family These emotional memories, told first-hand to the authors, are woven like a fine tapestry into this intricate and endearing tale.