Tampa Bay Noir (Compact Disc)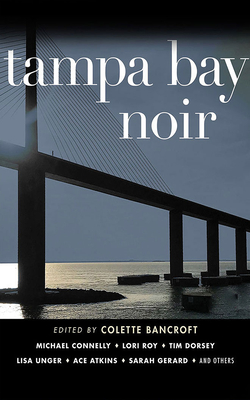 Description
---
Tampa Bay joins Miami in representing the (alleged) Sunshine State in the Noir Series arena.
At last, the popular Akashic Noir series has adopted the Tampa Bay area.... The notion of elevating place to the status of a character in a story, a frequent topic in writers workshops, works to maximum effect. The descriptive forays are full of observations that can only be gleaned by living here. (Tampa Bay Times)
A new collection of noir fiction features all sorts of miscreants finding their way through this part of Florida. (Ocala Star Banner)
A] lively collection of superior short stories. (South Florida Sun Sentinel)
For too long readers have connected Florida Noir with the admittedly fascinating locales of Miami-Dade County, thanks to a slew of talented and popular writers no doubt, but there's another major metropolitan area on the Gulf Coast that's every bit Miami's equal for bizarre noir. Tampa Bay gets a much-deserved turn in the spotlight with this new collection in the Akashic series, edited by Colette Bancroft and featuring some stellar contributions from writers out of the greater Tampa diaspora, including Michael Connelly, Tim Dorsey, Sarah Gerard, Ace Atkins, and Lori Roy. (CrimeReads, One of the Most Anticipated Crime Books of 2020)
Books can transport us to faraway, exotic places we've never seen, but they can also show us new angles of familiar places we thought we knew. Places closer to home like Hyde Park, Tierra Verde, Davis Islands, Palma Ceia, Clearwater Beach, Pass-a-Grille, Indian Rocks Beach, Westshore, St. Petersburg's 34th Street, Gibsonton, Lake Maggiore, Pinellas Park, Largo, Safety Harbor and Rattlesnake. Those are the local settings - yes, Rattlesnake is a real place - for the 15 stories collected in Tampa Bay Noir, an anthology of new crime fiction due out in August. (Creative Pinellas)
Anyone who lives in the Tampa Bay area knows there are stories of intrigue here, just waiting to be told. (The Gabber)
Every classic mystery-fiction theme is represented here - murder, fraud, love, sex, money - and, overall, the writing is top quality. Lovers of short crime fiction should eat this one up. (Booklist)
Fifteen tales that reveal the dark side of sunny Tampa Bay. (Kirkus Reviews)
Akashic Books continues its award-winning series of original noir anthologies, launched in 2004 with Brooklyn Noir. Each book comprises all new stories, each one set in a distinct location within the geographic area of the book.
Brand-new stories by: Michael Connelly, Lori Roy, Ace Atkins, Karen Brown, Tim Dorsey, Lisa Unger, Sterling Watson, Luis Castillo, Sarah Gerard, Danny L pez, Ladee Hubbard, Gale Massey, Yuly Restrepo Garc's, Eliot Schrefer, and Colette Bancroft.
From the introduction by Colette Bancroft:
Ask most people what the Tampa Bay area is famous for, and they might mention sparkling beaches and sleek urban centers and contented retirees strolling the golf courses year-round. But it's always had a dark side. Just look at its signature event: a giant pirate parade.
Not only does Gasparilla honor the buccaneer traditions of theft, debauchery, and violence; its namesake pirate captain, Jos Gaspar, is a fake who probably never existed. And if there's any variety of crime baked into Florida's history, it's fraud. From the indigenous residents who supposedly conned Spanish explorers seeking the Fountain of Youth through the rolling cycles of real estate scams that have shaped the Sunshine State for the last century or so, the place is a grifter's native habitat.