Prayers of Desperation: A Questioner's Prayer for Answers in Our Darkest Moments (Paperback)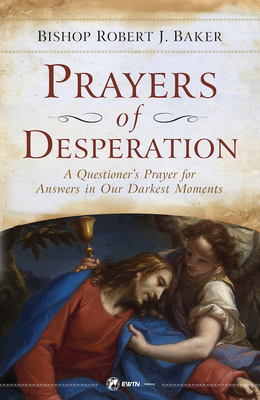 $14.95

Available from our Warehouse (Not in store currently)
Description
---
Sometimes our best prayers can be the questions we ask. Bishop Robert J. Baker, S.T.D., explains powerful ways to pray when facing the pain of abandonment, serious illness or addiction, loss of a loved one, or large-scale disaster.
He points to the growth that occurs when, in our darkest moments, we turn to God in humility and ask such authentic questions as "Why me, Lord?"; "Why now?"; "When will this pain subside, my God?"; and "How can I possibly get through this?" Prayers of Desperation ushers us through the fog of turmoil and helps us place our faith and trust firmly in God, despite our despair or lack of understanding. When we begin the prayer dialogue with God that Bishop Baker gently explains, God will answer.
This engaging, comforting, easy-to-read prayer and meditation book is invaluable for those who are beginning their search for meaning in life as well as for those further along on their journey of faith.
Bishop Baker masterfully guides you to the core of your relationship with God by offering:
Solutions to help you unite your sufferings to those of Christ, including a stirring meditation on His Passion
An understanding of the Real Presence that will enlighten you, inspire you with charity, and rid you of anxieties
A solid answer and guidance to the question of what God's plan is for your life
Lessons from St. Teresa of Calcutta's real-life experiences on the question "Where are you, God?"
The spiritually intense avenues for human-divine encounters that bring you God's healing
Explanations on why the Holy Mass, sacramentals, and devotions are key tools for getting your existential questions answered
You will also learn important techniques for navigating through unplanned or unwanted situations, and the proper spirit in which to pray the "How?" prayer. Moreover, you will gain the confidence and ability to ask questions of God daily as you look to Him for motivation, inspiration, and understanding. Most significantly, you will find out who can be saved and the means through which redemption is attained. Bishop Baker includes at the end of each chapter a prayer, Scripture passages, quotes from St. John Paul II and Pope Benedict XVI, and a list of recommended readings on each topic. Far from suggesting a lack of faith, authentic questions asked of our Lord open our hearts to receive great graces and the gift of deeper wisdom during times of hardship. When we are receptive to listening to God, especially during challenging times, He speaks to us and reveals the truth of His healing love so that we can confidently and assuredly answer Jesus' question: "Who do you say that I am?
About the Author
---
Bishop Robert J. Baker, S.T.D., served as bishop of Charleston, South Carolina, from 1999 to 2007 and as bishop of Birmingham, Alabama, from 2007 to 2020. He has published numerous articles and books, including When Did We See You, Lord?, which he co-authored with Father Benedict J. Groeschel, C.F.R.