In A Time of Tumult: The Law Firm Leader's Handbook (Paperback)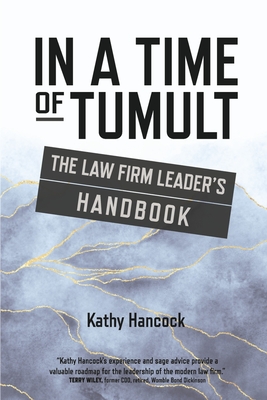 $14.95

Available from our Warehouse (Not in store currently)
Description
---
The book points out the critical issues and things that law firm leaders and administrators need to learn to hone their skills. It also provides numerous important management and leadership issues and opportunities that the modern law firm and its leaders will face over the coming years and how they might deal with those challenges effectively. The book includes checklists to help readers spot an organization's vulnerabilities with ideas about how to address them.
About the Author
---
Kathy Hancock has over 30 years' experience in strategic planning and execution; operations management; management coaching and counsel; and marketing and business development. She loves working with law firm clients as a thoughtful, direct coach, advisor, and problem solver. She is affiliated with Vertex Advisors Group and welcomes your comments and questions at Kathy.Hancock@VertexAdvisorsGroup.com.
Before developing her consulting business, she was the COO at one of the country's 250 largest law firms based in the Southwest, serving 19 years through several recessions, expansions into multiple new markets, and law firm acquisitions. She also was a billing professional at the firm, assisting clients with issues management, crisis communications, and government affairs.
Originally from Independence, Missouri, Kathy graduated from the University of Missouri at Columbia with a bachelor's degree in English and a minor in journalism. She started her business career at age 10, dusting warehouse shelves on Saturdays for her father in his school supply business. She is married to an architect and retired Naval officer and together they spend their spare time hiking with their two Brittanys, playing tennis, and enjoying the fantastic Southwest sunsets.