What the River Said: A Novel (Hardcover)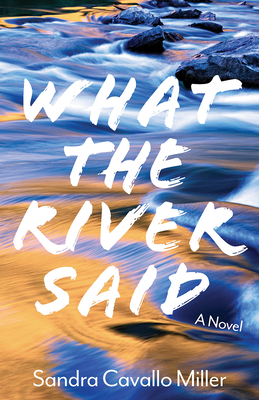 Description
---
In her third book in the Dr. Abby Wilmore Series, Sandra Cavallo Miller weaves a new riveting tale of medical adventure and mystery, set amidst the splendor of the Grand Canyon 
 
In this riveting third book of the Dr. Abby Wilmore series, Dr. Abby returns to her medical clinic in Grand Canyon National Park. Happy to be reunited with her staff and her partner, Dr. John Pepper, Abby is back treating park visitors and personnel as well as local residents. However, a wave of heart attacks among apparently healthy hikers creates a new puzzle, and soon there are rumors of people using performance-enhancing drugs. Abby's situation deteriorates when a new female friend suddenly disappears, and Abby berates herself for missing the woman's depression.

As Abby struggles with the disappearance of her friend, Dr. Pepper is preoccupied by a mysterious threat from his past and becomes badly
injured in an apparent fall. While he recuperates, Abby takes over much of the clinic work while they provide a home for Pepper's troubled teenage niece and an adopted stray dog.

Abby soon discovers that there is something more sinister behind the recent troubling events. In this exhilarating follow-up to The Color of Rock and Where Light Comes and Goes, Abby must learn to confront her past in order to stand up for the ones she loves.
 
About the Author
---
Sandra Cavallo Miller is an author, poet, and retired academic family physician. She is the author of The Color of Rock and Where Light Comes and Goes. Her writings and poems have been published in JAMA's A Piece of My Mind, Pulse: Voices From the Heart of Medicine, Under the Sun, Embark, Miller's Pond, and American Journal of Kidney Diseases. She lives in Phoenix, AZ.
Praise For…
---
"What the River Said is an engaging mystery set against the backdrop of a medical clinic at the Grand Canyon. The writer is herself a family doctor, and the story rings with authenticity, clarity, and just the right amount of detail to keep the reader turning pages. The book delivers on many levels. Abby is likable and just flawed enough for readers who appreciate depth of character. The story is well-paced and satisfying. A fun read that is highly entertaining, this book reminded me of the best stories of Nevada Barr, only with a medical element. Read it!"
—Pat Camalliere, author of the Cora Tozzi Historical Mystery Series

"As a family physician, I have read the book with the lens of a practicing physician. It is written perfectly. Abby thinks and talks and acts like a female physician with regards to her self-talk, moods, interactions with other office personnel, perspective on her work/ personal life balance, and approach to medical conditions."
—Leslie Greenberg, MD, FAAFP

Praise for The Color of Rock, book one in the Dr. Abby Wilmore Series
"Part Grey's Anatomy, part modern western romance, Miller's enjoyable story marries unexpected diagnoses with the promise of a happily-ever-after and will please fans of Jojo Moyes."
—Publishers Weekly