A Constellation of Ghosts: A Speculative Memoir with Ravens (Paperback)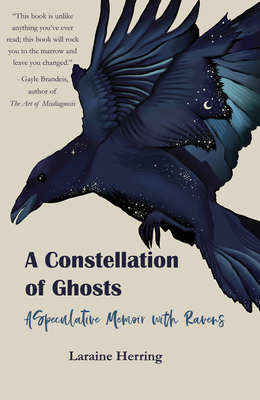 Description
---
A ghost is not what you think it is, says Raven. A ghost is a commitment. When Laraine Herring receives an unexpected colon cancer diagnosis, her father, thirty years dead, returns to her as a raven, setting off a magical journey into complicated grief, inherited trauma, and ancestral healing. As she struggles with redefining her expectations for her life, she slips further and further underground into the ancestral realm, where she finds herself writing a play directed by her father-as-raven. Raven says, It will be a cast of only four: you and me and my mother and my father, and we will speak until there are no more words between us. And then you can decide the ending. Tick, tock, write.

A Constellation of Ghosts takes the reader into the liminal spaces between one world and another, where choices unspool into lives, and the stories we've told ourselves fall apart under the scrutiny of multiple perspectives like flesh from bone, reminding us that grief is the unexpected ferryman who can usher all of us back together again.
About the Author
---
Laraine Herring is a tenured professor of creative writing and psychology at Yavapai College in Prescott, AZ. Her fiction has won the Barbara Deming Award for Women, and her nonfiction has been nominated for a Pushcart Prize. She has volunteered for Hospice of the Valley, directed the New Song Center for Grieving Children's support group, worked with women in transitional housing and women recovering from addiction. Her work—whether it's her paid employment, her volunteer work, or her creative work—focuses on the power of stories to heal what's hidden within us.
Praise For…
---
"Laraine Herring has written a groundbreaking, breathtaking tour de force here, excavating personal and ancestral trauma as she blazes forth new possibilities for both narrative and healing. A Constellation of Ghosts is reckoning and revelation, deeply embodied, wholly visionary. This book is unlike anything you've ever read; this book will rock you to the marrow and leave you changed." —Gayle Brandeis, author of The Art of Misdiagnosis

 

"Gripping in its honesty, A Constellation of Ghosts is an incredible journey of self-discovery, revelation, mourning and healing. I am awed by the strength and courage it took to write such a raw, personal book." —Rick Hamilton, filmmaker and director (Seeing Glory) —Rick Hamilton, www.rickhamilton.nyc

 

"Laraine Herring's A Constellation of Ghosts endearingly broaches the borders between poetic prose and prose poetry—a vivid, insistent, lyrical memoir. Herring presses on our universal yearning to reconcile the curious pull of loved ones who have been gone for decades. Beautifully crafted, inviting, and playful, the book explores the imprint of family, one's own mortality, and the ultimate gifts of grief. Her unusual story—in which it doesn't even seem odd that ravens appear and speak—merges a lovely elegy for her long-gone father with the author's illness, the need to move on from a long-held grief, and the lure of letting go." —Lisa Romeo, author of Starting With Goodbye, A Daughter's Memoir of Love after Loss

 

"A Constellation of Ghosts is unlike any book you have read or will read again. This genre-bending, lyrically beautiful, mind-blowing memoir uses the imagined to make way for deeper, underlying truths of fear and family and love (and the absence of) in the face of illness, uncertainty, displacement, and death. Through scripting of multi-generational voices—particularly, her deceased father in the form of a raven—Laraine Herring confronts the commitments we make to each other and those that grief, betrayal, and forgiveness make to us." —Melissa Grunow, author of I Don't Belong Here

 

"As haunting as it is beautiful, Laraine Herring busts open the speculative memoir genre with A Constellation of Ghosts to show that even when we thought we had let go, the dead are always with us. Through rhythmic and poetic language, Herring hasn't just created an engaging read, she's invited the reader to come in and have an experience. So I don't know which is more powerful here--the story or the writing. They both gave me chills. Because from rhyming ravens to poignant ghosts, Herring's words enter into your bones, become a part of you, and will refuse to leave." —Chelsey Clammer, author of Circadian

 

"I read Constellation of Ghosts in a rush, compelled, unable to put it down. A spiral that bores to the core of life and death, past selves, family wounds, and the relationships within family structures, Herring's speculative memoir is fearless, moving, profound, and so full of love it overflows. Its real magic is the way it heals, bringing the reader to a still point where she finds herself home at last. This is memoir at its best." —Michaela Carter, author of Leonora in the Morning Light
 

"What's the best way to grieve? We could conjure ghosts, write and re-write our stories, collect history, quantify, create rituals, let go of that balloon, promising us comfort, at long last. Maybe our fathers will become ravens and speak to us until we no longer need them. Maybe we can sing a death lullaby, somehow putting our grief to rest. Through time, from her father's quarantine and affliction with polio, to the horror of cancer, and myriad violences, Herring asks and answers the question of how to let go. She commits to it. A generous literary act." —Jenny Forrester, author of Soft-Hearted Stories