CASAS Test Prep Student Book for Reading Goals Forms 905R/906R Level C (Paperback)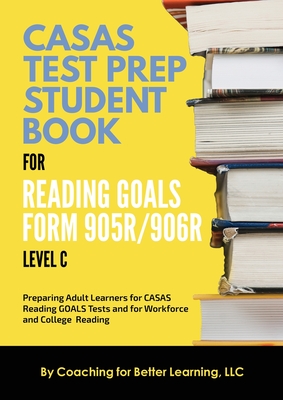 $22.00

Available from our Warehouse (Not in store currently)
(This book cannot be returned)
Description
---
Updated CASAS Reading GOALS Student textbook for Level C Forms 905R/906R with Exercise Answer Keys
This test prep student book is designed to successfully develop adult learners' academic reading skills, preparing them for CASAS Reading GOALS Level C Forms 905R/906R tests and for vocational training and college reading.
In other words, this student textbook presents academic reading activities that help adult education programs and workforce programs, and their learners meet the Workforce Innovation and Opportunity Act (WIOA) reading expectations.
The reading exercises and the two practice tests of this test prep student book cover CASAS Reading GOALS Level C standards and College and Career Readiness (CCR) reading standards and content.
For example, each lesson focuses on three main areas: vocabulary, reading comprehension skills, and higher-order reading skills. This reading textbook covers and teaches the following reading strategies:
Using Background Knowledge
Making Inferences and Predictions
Constructing Visual Imagery
Identifying Text Structures And Cohesive Devices
Understanding Unfamiliar Vocabulary
Reading Long Passages
Learning Nonfiction Text Features
Understanding Figurative Language
Reading for Main IdeasUnderstanding Main Ideas and Finding Evidence
Understanding What You Read
Analyzing Narrator And Point Of View (POV)
This consumable student book provides practice exercises for using the reading strategies to access different types of texts (science, social studies, and technical texts, literary texts). The lessons put emphasis on text complexity, evidence, and knowledge.