Parenting Your Transgender Teen: Positive Parenting Strategies for Raising Transgender, Nonbinary, and Gender Nonconforming Teens (Paperback)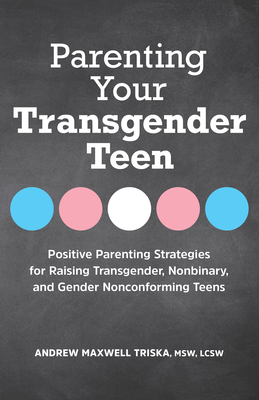 $14.99

Available from our Warehouse (Not in store currently)
Description
---
Love and support your transgender teen
You're probably reading this because your teenager shared something important about themselves. You want to be supportive, but what does "supportive" mean to transgender, nonbinary, or gender nonconforming teens? This parenting book provides positive parenting tools to support your teen on their journey of self-discovery plus strategies to help you build a stronger relationship with them.
What sets this love-centered parenting book apart from other books on parenting teens:
Learn—Read about trans identity and learn how gender has been studied throughout history to help you put your child's gender identity into context.
Communicate—Show your teen you care by learning the terms used to describe gender identity and how to talk to them about their experiences in accurate and affirming ways.
Support—Discover ways you can support your teens' gender expression, like helping them find clothes that fit or taking them to a gender-affirming salon.
Advocate—Learn how to talk about your teen's gender to friends and family, how to support your child in school, and the laws that protect trans people from discrimination and harassment.
There's a world of information and support out there for you and your teen, and by picking up this book you're taking the first step.
About the Author
---
ANDREW MAXWELL TRISKA, MSW, LCSW, is a psychotherapist and author in New York who works with trans and queer youth and adults. Triska also trains and consults on gender identity and sexuality for organizations, corporations, and schools. He is proud to be a trans-identified therapist.
Praise For…
---
"This book is an essential guide for parents seeking to understand, affirm, and support their transgender teenager. Andrew Triska provides insights into the needs and challenges faced by gender-expansive youth, and ways parents can humbly guide them with unconditional love and compassion. He will help you see the world through their eyes, which can make all the difference in how you care for them." —Mike Delgado, host of Delgado Podcast

"So many resources just scratch the surface, but this book digs deep. Triska has clear experience working with parents, anticipating their emotions and providing them a space to explore their questions. If you're a parent looking for a one-stop shop, I'd start here." —Laura Erickson-Schroth, MD, editor of Trans Bodies, Trans Selves