Card Games for One or Two: 52 Games to Know and Play (Paperback)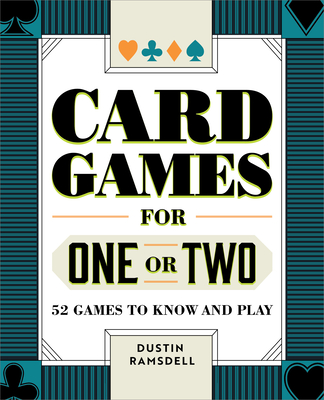 Description
---
Deal yourself a good time
In today's high-tech world, sitting down with a deck of cards is a simple pleasure. With an engaging collection of beloved classics, this book is filled with 52 card games made for one or two players.
What sets this card game book apart:
Card games 101—Become a savvy player in no time with a rundown of everything from common card lingo to tips for winning strategies.
Smart organization—This compendium is divided into solo and two-player games and organized by game type (capturing, trick-taking, etc.) so you can quickly find something that suits your mood.
Clear instructions—Master the mechanics of any game and jump into play right away with help from simple directions and illustrations that are easy to follow.
Learn thrilling new card games you can enjoy solo or with a partner.
About the Author
---
DUSTIN RAMSDELL is a blogger, podcaster, and proud geek who has been creating content for the past eight years. He works professionally in higher education technology, helping support students on a daily basis. Perhaps most importantly, Dustin loves games of all kinds.

Praise For…
---
"This is a great manual for those looking to learn and master card games. Dustin is both insightful and heartfelt in his approach to describing the lore and rules of the various games. If you're looking to learn about fun and exciting card games, this is the book for you." —Jeremy A. Harper, author of Mourning Sky trilogy

"Dustin's book is an excellent compendium of card games! While the title focuses on games for one or two people, it also includes games for multiple players. The book is well laid out—with a common vocabulary for card games, chapters arranged by game mechanics, a good index, and clear and concise instructions. As a side note, I was excited to see the game Whist included. I now understand the card game played in one of "Pride & Prejudice" movies." —Stacy A. Jacob, PhD, associate professor of student affairs in higher education, educational game maker