AFOQT Study Guide 2022-2023: Air Force Officer Qualifying Test Prep with Practice Exam Questions [4th Edition] (Paperback)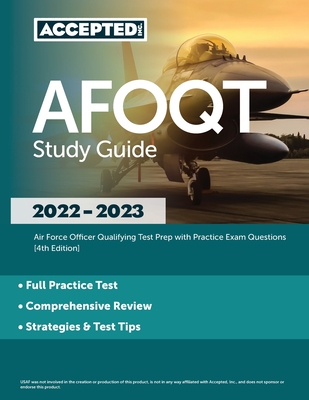 $28.99

Available from our Warehouse (Not in store currently)
Description
---
Introducing our AFOQT Study Guide 2022-2023: Air Force Officer Qualifying Test Prep with Practice Exam Questions 4th Edition]
Accepted, Inc.'s AFOQT Study Guide 2022-2023 includes everything you need to pass the Air Force Officer Qualifying Test (AFOQT) the first time.
Quick review of the concepts covered on the AFOQT
Review questions on every subject
Tips and tricks from experienced Air Force Officers
Accepted, Inc.'s AFOQT Study Guide is aligned with the official AFOQT framework. Topics include:
Verbal Analogies
Arithmetic Reasoning
Word Knowledge
Mathematics Knowledge
Instrument Comprehension
Block Counting
Table Reading
Aviation Information
General Science
USAF was not involved in the creation or production of this product, is not in any way affiliated with Accepted, Inc., and does not sponsor or endorse this product.
About Accepted, Inc.
Accepted, Inc. is an independent test prep study guide company that produces and prints all of our books right here in the USA. Our goal here at Accepted, Inc. is to help you Study Smarter - we've eliminated the filler and fluff allowing you to have more effective study time. Score Higher - We exclusively work with tutors, teachers, and field experts to write our books. This ensures you get the tips, takeaways, and test secrets that a one-on-one tutoring experience provides ...and Get Accepted