Rudolf Steiner, Life and Work: Volume 6: 1923: The Burning of the Goetheanum (Paperback)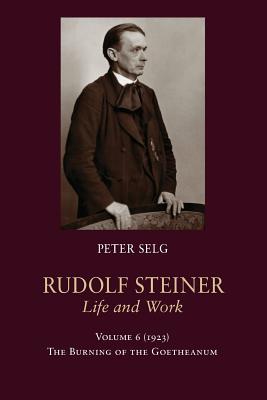 $25.00
Email or call for price.
Other Books in Series
This is book number 6 in the Rudolf Steiner series.
Description
---
"Try to become one with the world--that will be the best and most important 'program.' It is something that cannot be contained in statutes but needs to burn in our hearts as a flame." --Rudolf Steiner
In 1923, Central Europe was still in disarray and social chaos created by the polarizing events of World War I. In volume 6 of his seven-volume biography of Rudolf Steiner, Peter Selg focuses on one of the most tragic years for the anthroposophical movement, including especially the rise of nationalism and the seeds of hatred spawned by Adolf Hitler and his followers.
The very beginning of that pivotal year began with the destruction of the nearly finished Goetheanum building in Dornach, Switzerland, delivering a heavy blow to the Anthroposophical Society and to Rudolf Steiner, both spiritually and on a personal level. It was evident that the fire had been caused by arson, and Steiner immediately expressed determination to rebuild and move forward, despite the friction in the Anthroposophical Society and the movement as a whole. Steiner noted, "It will not be viable if things continue as before," suggesting that the Society needed to be suffused with the "will to wake up...because then it can inspire an awakening of the present civilization as a whole." He devoted the remainder of 1923--indeed, his life--to that cause.
Rudolf Steiner, Life and Work, Seven Volumes
Vol. 1. (1861-1890): Childhood, Youth, and Study Years
(ISBN: 9781621480822 Pbk - ISBN: 9781621480839 Hbk)
Vol. 2. (1890-1900): Weimar and Berlin
(ISBN: 9781621480853 Pbk - ISBN: 9781621480860 Hbk)
Vol. 3. (1900-1914): Spiritual Science and Spiritual Community
(ISBN: 9781621480884 Pbk - ISBN: 9781621480891 Hbk)
Vol. 4. (1914-1918): The Years of World War I
(ISBN: 9781621481577 Pbk - ISBN: 9781621481584 Hbk)
Vol. 5. (1919-1922): Social Threefolding and the Waldorf School
(ISBN: 9781621481935 Pbk - ISBN: 9781621481942 Hbk)
Vol. 6. (1923): The Burning of the Goetheanum
(ISBN: 9781621482192 Pbk - ISBN: 9781621482208 Hbk)
Vol. 7. (1924-1925): The Anthroposophical Society and the School for Spiritual Science
(ISBN: 9781621482321 Pbk - ISBN: 9781621482338 Hbk)