The Freedom Artist (Hardcover)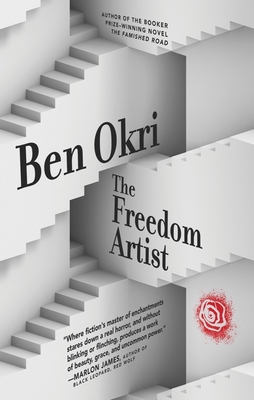 $30.95

Available from our Warehouse (Not in store currently)
Description
---
An impassioned plea for freedom and justice, set in a world uncomfortably like our own, by the Booker Prize-winner Ben Okri.
An NPR Best Book of 2020
Nominated for the 2021 Hurston/Wright Legacy Award in Fiction
"With the stark power of myth, this political allegory evolves into an argument for artistic freedom."
--New York Times Book Review, a New & Noteworthy selection
"A perfect read for a post-truth era."
--NPR
Longlisted for the 2021 Nommo Award for Best Novel, presented by the African Speculative Fiction Society
"The Freedom Artist...can be read as a kind of revision of Plato's allegory of the cave, in which art, rather than offering distracting illusions, can tap into foundational truths and help us free ourselves from the prison of existence. The concise, declarative prose and the parable-like architecture of the stories resemble ancient forms of wisdom literature."
--Wall Street Journal
"With a slow burn arc emblematic of Toni Cade Bambara's The Salt Eaters, and prophetic warnings of apocalypse akin to Octavia Butler's The Parable of the Sower, The Freedom Artist offers a contemplative look at post-truth society."
--Sierra Magazine
"In Okri's dystopian version of our reality, the world is a totalitarian state, ruled by an anonymous but powerful authority known as the Hierarchy. When a woman goes missing after painting a simple question--'Who is the prisoner?'--on a public wall, her lover sets out to find (and hopefully save) her. His journey takes him through a dismal landscape, inhabited by people terrified of--but also resisting--their subjugation."
--BuzzFeed, one of BuzzFeed's Most Anticipated Books of 2020
"Booker Prize winner Okri's lyrical allegory combines fable, folklore, and mythology with moments of surreal horror to produce a rallying cry against the oppressive institutions that would seek to make knowledge illegal."
--Locus Magazine, New & Notable selection
"Man Booker-winner Okri's modern allegory specifies and beautifully renders the impact on the human spirit when people are deprived of history and truth. Written with a striking simplicity that belies the significance of its message, Okri's tale is especially resonant in our current post-truth environment."
--Booklist, Starred review
"Haunting and inspiring...In this story of political abuse and existential angst, Okri employs a powerful and rare style reminiscent of free verse and evoking a mythical timbre. This is a vibrantly immediate and penetrating novel of ideas."
--Publishers Weekly, Starred review
"Where fiction's master of enchantments stares down a real horror, and without blinking or flinching, produces a work of beauty, grace, and uncommon power."
--Marlon James, author of Black Leopard, Red Wolf
In a world uncomfortably like our own, a young woman called Amalantis is arrested for asking a question. Her question is this: Who is the Prisoner?
When Amalantis disappears, her lover Karnak goes looking for her. He searches desperately at first, then with a growing realization that to find Amalantis, he must first understand the meaning of her question.
Karnak's search leads him into a terrifying world of deception, oppression, and fear at the heart of which lies the prison. Then Karnak discovers that he is not the only one looking for the truth.
The Freedom Artist is an impassioned plea for justice and a penetrating examination of how freedom is threatened in a post-truth society. In Ben Okri's most significant novel since the Booker Prize-winning The Famished Road, he delivers a powerful and haunting call to arms.
About the Author
---
Ben Okri was born in Minna, Nigeria. His childhood was divided between Nigeria, where he saw firsthand the consequences of war, and London. He won the Booker Prize in 1991 for The Famished Road. He has published eleven novels, four volumes of short stories, four books of essays, and four collections of poems. His work has been translated into more than twenty-five languages. He also writes plays and screenplays. He is a fellow of the Royal Society of Literature, a vice president of English PEN, and has been awarded the OBE as well as numerous international prizes and honorary doctorates.