God & Human Beings: First English Translation (Paperback)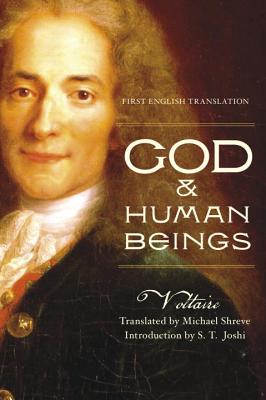 $18.00

Available from our Warehouse (Not in store currently)
Description
---
In this little-known work by Voltaire (1694-1778)—now available in English for the first time— the famous French philosophe and satirist presents a wide-ranging and acerbic survey of religion throughout the world. Written toward the end of his life in 1769, the work was penned in the same decade as some of his more famous works—the Philosophical Dictionary, Questions on Miracles, and Lord Bolingbroke's Important Examination—all of which questioned the basic tenets of Christianity.

Voltaire called himself a deist and thus he professed belief in a supreme deity. But he was always sharply critical of institutional Christianity, especially its superstitions, the hypocrisy of its clergy, and its abuse of political power. Both his deism and his critical attitude toward Christianity are manifest in God and Human Beings, which is, in effect, one of the first works of comparative religion. Comparing Christianity to the more ancient belief systems of the Jews, Hindus, Chinese, Greeks, Romans, Egyptians, Babylonians, Phoenicians, and Arabs, he notes a common tendency to worship one supreme god, despite the host of subordinate deities in many of these religions. He also critiques the many superstitions and slavish rituals in religion generally, but he emphasizes that in this respect Christianity is no better than other faiths. Thus, the clergy's claim that Christianity is God's supreme revelation to humanity has no basis from an objective perspective.

This first English translation of a classic critique of religion includes an introduction by writer, scholar, and editor S. T. Joshi, who wrote the article on Voltaire in The New Encyclopedia of Unbelief (edited by Tom Flynn). Anticipating many of the themes of the later Higher Criticism and rationalist critiques of religion, this incisive, witty treatise by the great French skeptic will be a welcome addition to the libraries of anyone with an interest in the philosophy of religion, intellectual history, or the Enlightenment.
About the Author
---
Michael Shreve (Paris, France) is the translator of Testament: Memoir of the Thoughts and Sentiments of Jean Meslier. He works as a language teacher and translator in Paris, France. He has taught Greek, Latin, French, Spanish, English, and classical civilization courses in universities and private schools in the United States, Canada, Lebanon, Mexico, Malaysia, and France over the past fifteen years.