The Natural Menopause Handbook: Herbs, Nutrition, & Other Natural Therapies (Paperback)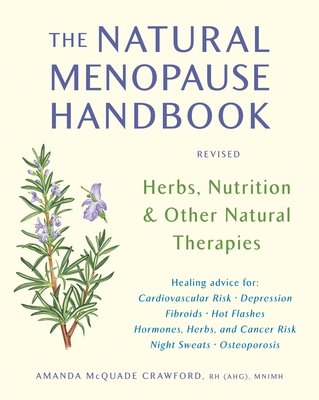 Description
---
The Natural Menopause Handbook bases its healing advice on the belief that menopause is a natural process-one that does not necessarily require medication. This revised edition focuses on herbs, nutrition, and other natural health approaches such as exercise, aromatherapy, and visualization to offer a holistic plan for wellness during perimenopause (the time leading up to and including menopause) and the postmenopausal years. Experienced medical herbalist and author Amanda McQuade Crawford examines both the age-old wisdom of nature and new research on natural therapies to address a wide range of menopausal symptoms and bodily issues.

This comprehensive handbook features an extensive collection of healing remedies, such as "Tea for Restorative Sleep," "Ten-Minute Visualization," and "Elixir for Healthy Joints," as well as appendices on making your own custom herbal formula and creating an herbal home medicine chest. In clear, supportive language, McQuade Crawford explains the nature and physiology of the most common health concerns and provides more than fifty herbal therapies to ease all stages of this natural transition in every woman's life.
About the Author
---
AMANDA McQUADE CRAWFORD earned her degree in herbal medicine from Britain's College of Phytotherapy and is a member of the National Institute of Medical Herbalists. She was a founding member of the American Herbalists Guild, and she has taught at hospitals and medical schools across the United States. She is currently a consultant medical herbalist in Los Angeles, California.