The Magic Behind the Voices: A Who's Who of Cartoon Voice Actors (Paperback)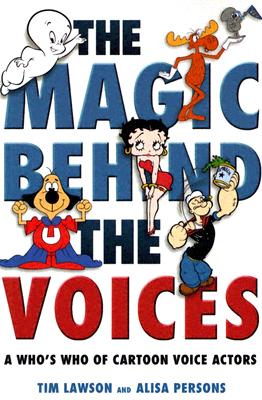 $30.00
Available from our Warehouse (Not in store currently)
Description
---
The Magic Behind the Voices is a fascinating package of biographies, anecdotes, credit listings, and photographs of the actors who have created the unmistakable voices for some of the most popular and enduring animated characters of all time.
Drawn from dozens of personal interviews, the book features a unique look at thirty-nine of the hidden artists of show business. Often as amusing as the characters they portray, voice actors are charming, resilient people-many from humble beginnings-who have led colorful lives in pursuit of success. Beavis and Butthead and King of the Hill's Mike Judge was an engineer for a weapons contractor turned self-taught animator and voice actor. Nancy Cartwright (the voice of Bart Simpson) was a small town Ohio girl who became the star prot g of Daws Butler-most famous for Yogi Bear, Huckleberry Hound, and Quick Draw McGraw. Mickey Mouse (Wayne Allwine) and Minnie Mouse (Russi Taylor) are a real-life husband-and-wife team. Spanning many studios and production companies, this book captures the spirit of fun that bubbles from those who create the voices of favorite animated characters.
In the earliest days of cartoons, voice actors were seldom credited for their work. A little more than a decade ago, even the Screen Actors Guild did not consider voice actors to be real actors, and the only voice actor known to the general public was Mel Blanc. Now, Oscar-winning celebrities clamor to guest star on animated television shows and features.
Despite the crushing turnouts at signings for shows such as Animaniacs, The Simpsons, and SpongeBob Squarepants, most voice actors continue to work in relative anonymity. The Magic Behind the Voices features personal interviews and concise biographical details, parting the curtain to reveal creators of many of the most beloved cartoon voices.