Stilwater: Finding Wild Mercy in the Outback (Paperback)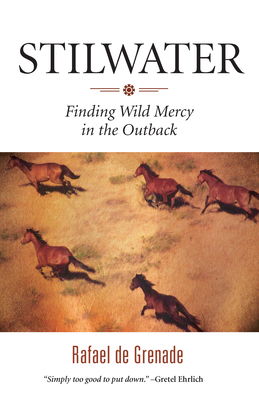 Staff Reviews
---
De Granade's book, published by the literary press Milkweed editions, is far more than an account of wrestling tough cattle in a tough land, it is an account of her coming into a relationship with that land. When you read this beautiful book, you too, may find yourself transformed by sharing her experience.
— Susan Lang
Description
---
The spellbinding true story of a young woman's adventure in the Australian outback as she joins a small crew on an abandoned cattle station and drags feral cattle in from the wild. One thousand square miles of coastal scrub--inundated by monsoon floods in summer, baked dry in winter, and filled with the most deadly animals in the world--Stilwater seems an unlikely home for a cattle operation. But in the countless miles beyond the station compound roam tens of thousands of cows, many entirely feral from a long period of neglect. Rafael has been hired, along with a ragged crew of ringers and stockmen, to bring them in for drafting. Over a season they use helicopters, motorcycles, bullcatcher jeeps, horses, ropes, and knives to win Stilwater Station back from the wild. A deeply poetic inquiry into our desire to make order where we find wildness, Stilwater: Finding Mercy in the Outback suffuses us with salt and scrub and blood, blurring the line between domestic and feral in wondrous, unsettling ways. This is a whirlwind of men, women, cattle, horses, machines and landscape in collaborative evolution, all becoming different manifestations of the same entity--the Australian Wild.

About the Author
---
Rafael de Grenade grew up on a rural farm in the foothills of the Santa Maria Mountains outside of Prescott, AZ. She began working for the rugged Cross U Ranch in north central Arizona at age 13 -- riding, branding, shoeing horses, and gathering cows. Her diverse and place-based education helped her to develop a deep understanding of the farm and the Southwest and her place as a land steward, artist, scientist, and writer. She earned a Bachelor of Arts degree in environmental studies from Prescott College, plus a Master of Fine Arts in creative nonfiction and a Ph.D. in Geography from the University of Arizona. She has traveled in many countries, seeking to understand the complexities of the people-place relationship in the context of a globalizing world. Rafael divides her time with her husband, Jaime, and daughter, Soraya, between the Southwest of the United States and Chile.