Airplane Flying Handbook: FAA-H-8083-3C (2023) (Paperback)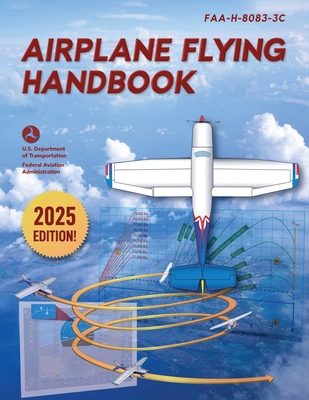 Description
---
THE DEFINITIVE GUIDE TO AIRPLANE FLYING, DEVELOPED BY FAA EXPERTS FOR USE IN 2023 AND BEYOND
The Federal Aviation Administration's official publication,
Airplane Flying Handbook
provides pilots, student pilots, aviation instructors, and aviation specialists with information on every topic needed to qualify for and excel in the field of aviation.
Topics covered include:
Flight Training
Ground Operations
Basic Flight Maneuvers
Energy Management: Mastering Altitude and Airspeed Control
Maintaining Aircraft Control: Upset Prevention and Recovery Training
Takeoffs and Departure Climbs
Ground Reference Maneuvers
Airport Traffic Patterns
Approaches and Landings
Performance Maneuvers
Night Operations
Transitions to Complex, Light-Sport, Multiengine, Tailwheel, and Turbopropeller- and Jet-Powered Airplanes
Emergency Procedures
Updated in 2021 with the most current information, including an all-new chapter on energy management, the
Airplane Flying Handbook
is a great study guide for current pilots and for potential pilots who are interested in applying for their first license. With full-color illustrations, photos, and diagrams detailing every chapter, this is a one-of-a-kind resource for pilots and would-be pilots. It is also the perfect addition to any aircraft or aeronautical enthusiast's library.
About the Author
---
The Federal Aviation Administration is the national aviation authority of the United States. It regulates and oversees the aviation industry, pilot licensing, and airspace with the goal of providing "the safest, most efficient aerospace system in the world."