ASVAB Flashcards, Fourth Edition: Up-to-date Practice + Sorting Ring for Custom Review (Barron's Test Prep) (Cards)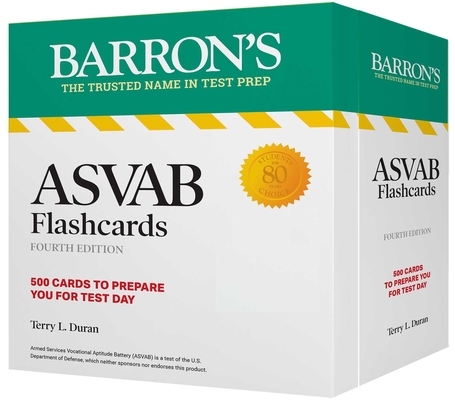 $29.99

Available from our Warehouse (Not in store currently)
Description
---
Now Available in Digital Format!Learn the most frequently tested topics from the ASVAB exam in a format that enhances memorization!Barron's ASVAB Flashcards
includes 500 flashcards that cover all nine ASVAB subtests with answers and explanations:
Word Knowledge
Paragraph Comprehension
General Science
Electronics
Shop and Automotive Information
Mechanical Comprehension
Mathematics Knowledge
"Mentally" Assembling Rotated Objects
The cards have a punch-hole in one corner that accommodates an enclosed metal key-ring-style card holder. The ring allows you to arrange the flashcards in any sequence that suits your study needs.
Looking for content review plus full-length practice tests?  Check out Barron's
ASVAB with Online Tests.
About the Author
---
​About the Author
Lt. Col. (Ret) Terry Duran has more than 30 years of military and freelance writing experience. A former Officer Candidate School instructor, he is the author of the Barron's ASVAB Study Guide Premium, Pass Key to the ASVAB, ASVAB Flashcards, and Military Flight Aptitude Tests, as well as numerous newspaper and magazine articles.

About the Publisher
In the 1930s, Manuel H. Barron opened a bookstore in Brooklyn, New York. 

People from the community asked Mr. Barron about books that might be available to help their children study for the New York State Regents exams. After realizing there wasn't anything available, Mr. Barron created his own study guides.

80 years later, Barron's has helped millions of people prepare for their next step.