The Girl on the Balcony: Olivia Hussey Finds Life after Romeo and Juliet (Paperback)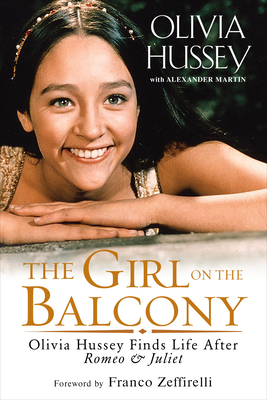 $15.95
Available from our Warehouse (Not in store currently)
Description
---
In 1968, at only sixteen years old, Olivia Hussey became one of the most famous faces in the world, immortalized as the definitive Juliet in Franco Zeffirelli's Romeo & Juliet. Now the iconic girl on the balcony shares the ups and downs of her truly remarkable life and
career . . .

The part was an opportunity of a lifetime for a simple girl from Buenos Aires, Argentina. But for Olivia, the role of movie star was hard to play, and harder still, to live up to. In this candid memoir, she tells her story—from being an "It Girl" in swinging 60s London and her enduring friendship with Romeo & Juliet co-star Leonard Whiting, through three tumultuous marriages—including one with Dean Martin's son, Dino—motherhood, stage-four breast cancer, debilitating agoraphobia, bankruptcy, and ultimately, a journey of self-discovery in India that led her on a path to fulfillment.

She brings readers intimately close to the legendary performers she knew, loved, worked with, and battled, including The Beatles, Vanessa Redgrave, Bette Davis, Elizabeth Taylor, Frank Sinatra, Liza Minnelli, Anthony Perkins, Christopher Reeve, Lawrence Olivier, Ingrid Bergman, and more. Olivia also finally reveals for the first time, the identity of the actor—a fellow young newcomer—who raped her, but who would not break her.

Featuring a foreword by her star-making director Franco Zeffirelli, Olivia Hussey's memoir shines with her luminous spirit—inspiring, surprising, and fascinating to read about.
About the Author
---
In a career spanning more than fifty years, OLIVIA HUSSEY has portrayed leading roles in films (Romeo and Juliet, Black Christmas, Death on the Nile, Mother Teresa of Calcutta) and celebrated television miniseries (Jesus of Nazareth, The Bastard, Ivanhoe, The Last Days of Pompeii, Lonesome Dove). She also has appeared in Murder, She Wrote and Boy Meets World and done voice work for Superman: The Animated Series, Batman Beyond, and the Star Wars video game franchise. For her performance in Romeo & Juliet, she won the Golden Globe for Most Promising Female Newcomer and the David di Donatello Award (the Italian Academy Award) for Best Actress. Born of Argentinean and English ancestry, she lives in Los Angeles.
 
ALEXANDER MARTIN moved to London after high school and attended the Central School of Speech and Drama with intention of taking up the family business. He appeared in the films Can't Hardly Wait, 21, and Josie and the Pussycats. A little over a year ago while he was beginning work on his first book, his mother called and asked if he would help with her memoir; it was an opportunity he couldn't pass up.