Arizona on Stage: Playhouses, Plays, and Players in the Territory, 1879-1912 (Paperback)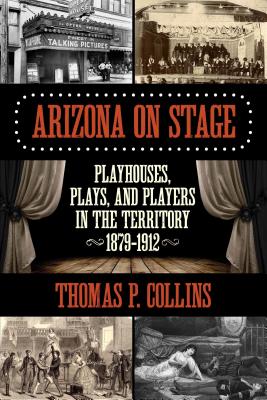 This item is not available for sale on this site.
Staff Reviews
---
Thomas Collins's new book, Arizona on Stage: Playhouses, Plays, and Players in the Territory 1879-1912, is a marvelously researched and passionately written history of a surprisingly lively era for theater-goers during a period that many of think consisted of gunfights, brothels and saloons.
— From
Susan's Picks
Description
---
Most of the books that have been written about territorial Arizona and the southwest focus on the Indian Wars, outlaws, violent crimes, gambling, saloons, and bawdy houses. They foster and perpetuate the notion that southwest mining towns in the nineteenth century were little more than battlefields and lawless dens of vice and corruption. This is only half true. The lawyers, judges, doctors, army officers, bankers, journalists, teachers, and businessmen and women who actually ran the towns were educated and culturally sophisticated people who yearned for the niceties of Atlantic Coast culture. They built churches, founded choral societies and amateur theater troupes, and built libraries, multi-purpose halls, and "opera houses" where talented professional actors and their companies performed both the classics and contemporary melodramas, operas, minstrels shows, etc. These men and women spent a considerable amount of their leisure time in the theater, often as much as three nights per week. The plays they attended reflected their social and moral values, their taste, and their worship of theatrical celebrities. Their attendance and financial support of the theater was a measure of their civic pride and social consciousness. This popular history will help to balance the image of the Wild West.
About the Author
---
A professor emeritus of theatre, Tom Collins lives with his wife in Prescott, Arizona, where he works as a volunteer with the Sharlot Hall Museum and conducts research on the theatre in the Arizona Territory. He has published five articles in the "Days Past" series of the Prescott Courier and a book entitled Stage-Struck Settlers in the Sun-Kissed Land: The Amateur Theatre in Territorial Prescott, 1868-1903. Collins taught at the University of Wisconsin-Platteville for 31 years and co-founded the Wisconsin Shakespeare Festival.