British Legends: The Life and Legacy of Sean Connery (Paperback)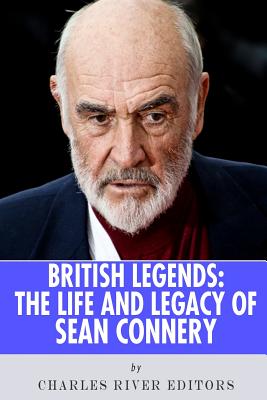 $9.44
Available from our Warehouse (Not in store currently)
(This book cannot be returned)
Description
---
*Includes pictures.
*Includes Connery's own quotes about his life and career.
*Includes a Bibliography for further reading.
A lot of ink has been spilled covering the lives of history's most influential figures, but how much of the forest is lost for the trees? In Charles River Editors' British Legends series, readers can get caught up to speed on the lives of Britain's most important men and women in the time it takes to finish a commute, while learning interesting facts long forgotten or never known.
Perhaps no actor has been able to retain their popularity into old age as well as Sean Connery. Despite retiring in 2006, Connery remains a venerable figure who continued to receive accolades for his handsome virility and status within the Hollywood elite. After all, in 1989, just shy of his 60th birthday, Connery was feted by People magazine as the Sexiest Man Alive, and in the years that followed, Connery was awarded with even more lifetime achievement awards, including being named Sexiest Man of the Century by People magazine in 1999. As an actor, Connery won an Academy Award for his performance in The Untouchables (1989), and he has also been awarded Golden Globes and BAFTA awards as well. Based on these designations, one can reasonably place Connery among the ranks of the most acclaimed Hollywood actors of all time, a figure whose critical reputation only grew as he matured.
Considering his personal acclaim as an actor, it is perhaps surprising that despite his status, most of the films in which Connery has appeared are not particularly acclaimed. Indeed, scanning his filmography, viewers finds very few films that have been showered with any significant awards, and even the role that brought Connery to fame, the James Bond franchise, initially received a largely lukewarm critical reception. On occasion, Connery has worked with directors of great critical standing, most notably Alfred Hitchcock in Marnie (1963), and yet even these films were not greeted with great praise. While Connery's skills as an actor remain unquestioned, his films themselves have not been canonized as outstanding, nor do they populate the curricula of film courses.
Given the gulf between Connery's own reputation and those of his films, it is natural to conclude that Connery's fame has arisen despite appearing in films that were generally unworthy of his talents as an actor. One of the prevailing questions surrounding Connery, therefore, is how he was able to attain such fame and acclaim despite appearing in films that have continually been deemed less than outstanding. To answer that question, it is necessary to consider not only his film appearances but also the personal background that shaped his career decisions and contributed to the development of his star persona. In fact, the legend of Sean Connery is inseparable from his upbringing, as well as the precarious period of his young adulthood. Connery came from an impoverished background, and his willingness later in his career to accept roles that were seemingly beneath him can be attributed to a blue collar ethos that respects the value and importance of hard work. In light of his difficult upbringing, Connery's rise to stardom is an unlikely one, as Connery managed to progress from the poorest regions of Edinburgh, Scotland to the heights of Hollywood fame, becoming famous for his signature mix of suave, debonair comportment and virile masculinity. At the same time, Connery's eccentric behavior in later years, which might be criticized if other people acted that way, are often considered part of the unique Connery charm.
British Legends: The Life and Legend of Sean Connery looks at the life of the iconic Bond actor on and off the silver screen. Along with pictures of important people, places, and events, you will learn about Sean Connery like you never have before, in no time at all.