The Absolutely True Diary of a Part-Time Indian (10th Anniversary Edition) (CD-Audio)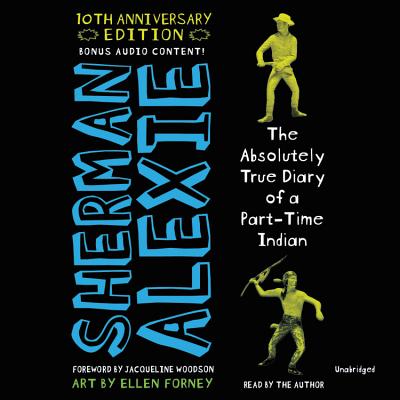 $20.00
Not in Stock, Call 928-445-9000 to see if available to order.
Staff Reviews
---
One of my favorite works by Spokane/Couer d'alene Indian Sherman Alexie is "The Absolutely True Diary of a Part-time Indian," a book written for young adults-but one that can be enjoyed by young and old and readers in between. The book has won many awards, including the National Book Award for Young People's Literature, and the School Library Journal Award. Despite all this deserved critical praise, the book is among the most banned books in the schools of several states, ranking close to Huckleberry Finn. This is because, in it's darkly humorous way, the book deals with some real, and at times, rough subject matter: Alcoholism, domestic violence, poverty and teenage sexual frustration. The fact that its teenage protagonist mentions masturbation three times seems to be at the heart of the banning issue. . . . Read Susan's complete review of this book in Kudos »
— Susan Lang
Description
---
Bestselling author Sherman Alexie tells the story of Junior, a budding cartoonist growing up on the Spokane Indian Reservation. Determined to take his future into his own hands, Junior leaves his troubled school on the rez to attend an all-white farm town high school where the only other Indian is the school mascot.

Heartbreaking, funny, and beautifully written, The Absolutely True Diary of a Part-Time Indian, which is based on the author's own experiences, coupled with poignant drawings by Ellen Forney that reflect the character's art, chronicles the contemporary adolescence of one Native American boy as he attempts to break away from the life he was destined to live.

With a forward by Markus Zusak, interviews with Sherman Alexie and Ellen Forney, and four-color interior art throughout, this edition is perfect for fans and collectors alike.
About the Author
---
A National Book Award-winning author, poet, and filmmaker, Sherman Alexie is one of the most well-known and beloved literary writers of his generation. His works of fiction, including The Absolutely True Diary of a Part-Time Indian, Reservation Blues, and The Lone Ranger and Tonto Fistfight in Heaven, have received numerous awards and citations. He lives in Seattle. Like Thunder Boy Jr., Sherman was named for his father.