Lemon-Aid New and Used Cars and Trucks 2007a2018 (Paperback)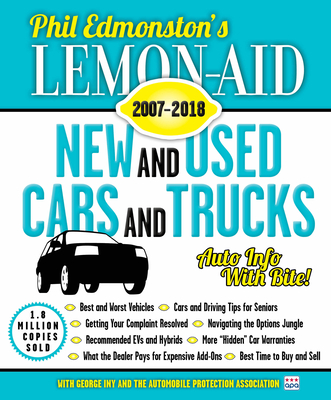 Description
---
A Globe and Mail bestseller "Dr. Phil," Canada's best-known automotive expert, and George Iny walk you through another year of car buying.
After almost fifty years and two million copies sold, Phil Edmonston has a co-pilot for the Lemon-Aid Guide -- George Iny, along with the editors of the Automobile Protection Association.
The 2018 Lemon-Aid features comprehensive reviews of the best and worst vehicles sold since 2007. You'll find tips on the "art of complaining" to resolve your vehicular woes and strategies to ensure you don't get squeezed in the dealer's business office after you've agreed on a price and let your guard down. And to make sure you receive compensation where it's due, Lemon-Aid's unique secret warranties round-up covers manufacturer extended warranties for performance defects. Lemon-Aid is an essential guide for careful buyers and long-time gearheads (who may not know as much as they think).
About the Author
---
Phil Edmonston, Canada's toughest customer, is a former MP and a long-time consumer advocate. For over forty-five years, he has written more than 150 consumer guides in the bestselling Lemon-Aid series. About three decades ago Nissan and Honda sued Phil for five million dollars -- and lost. George Iny, Canada's smartest car customer, is the director of the Automobile Protection Association, founded by Phil Edmonston in 1969. George and the APA's secret shoppers have worked with CTV W5 to expose deceptive practices in auto sales and repairs for two decades.